It is clear that 2022 will be another year of amazing experimentation and trendsetting from visual designers.
In this article, we will take a closer look at the breakout directions for the upcoming year by focusing on the following top logo design trends:

Crude minimalism

Maximalist logos

Unique styles

Depth gradients

Variable & Responsive logos
1. Crude minimalism
Every time designers discuss top trends of the following year, minimalism always pops up higher or lower on a shortlist. Not surprising, since minimalism is not only an aesthetic direction but a functional one as well: Brand recognition with the least amount of cognitive effort helps to cut through the pocket-sized attention span.

Like it or not, minimalism is here to stay and even inches closer to comple simplicity: The goal of crude (or brutalist) minimalism in logo design is to achieve a very recognizable emblem using only the simplest shapes, lines and colours possible.
BBC already aligned many of its logos into this direction last October and the mixed reactions proved that perfecting this style is a difficult feat: The effort of applying simplicity onto an emblem should be on the same level as creating charm and energy.

It is essential to note that minimalism alone shouldn't be the goal: It should be a vehicle that drives significant aspects of a brand into a clean, decluttered logo. In the case of crude minimalism, the well-defined balance between visual building blocks is critical when designers apply the language of crude minimalism onto their logos.
2. Maximalist logos – A postmodern movement
As mentioned in the first point, if you dive further into the diverse industry of logos, you'll recognize the modern consensus among designers: A good logo is a clean, simple, and minimal logo.

On the other hand, some artists might argue that logos in recent years are getting simplified to a point where the recognizable characteristics of the brand ID are compromised. The KISS principle produced a lineup of monotonous and too polite logos in the pas decade.
Logo designers will veer into the territory of maximalism to truly stand out and provide a clearly recognizable, unique identity. Maximalist design is already popping up in general brand design, with many complex, sharp, and vibrant visual elements to counter the dominant minimalist.
Currently, maximalism is a very experimental movement that gains more and more momentum in brand identity, settling into the logo design aspect of branding soon.
In the following years, startups and up-and-coming companies will attempt to communicate their fresh, rebellious brand with more experimental, counter-cultural directions by providing artistic chaos through their logos as well.
3. Unique Styles
3D logos
One of the hottest UI design trends of last year, 3D is here to stay for 2022 as well. macOS Big Sur has also introduced icons with 3D-like effects which might inspire designers to start experimenting with such concepts. Naturally, this raises the question of whether 3D logos will become a thing?

Thanks to more powerful technology and new tools like Spline (a new 3D design tool currently in beta), creating 3D graphics is becoming less and less time-consuming. Still, integrating 3D graphics into mobile and web interfaces is a challenge that requires a lot of practice and a specialized skill set. Whereas 3D is eye-catching and visually appealing, it's also more time-consuming.
Therefore, creating a trendy 3D logo is only worth the time and effort if it fits your brand identity and adds to the overall user experience.
Animated logos

Thanks to the improving technology, static logos aren't the standard anymore. Adding motion to your logo spices things up and helps you stand out from the competition. We're seeing more and more brands embracing the animated logo trend in 2022.

Indeed, it comes as no surprise since animated logos can be part of cross-platform brand identity from mobile to web or even social media. These brands know that motion not only engages and entertains people but can make your logo much more eye-catching in an era of short attention spans.
Stencil logos

For a long time, stencils were a tool of application, but lately, more designers have used them as a memorable stylization of typo logos. Stencils traditionally consist of islands (the visible parts) and bridges (the hidden parts), and adding this visual contrast to logos can make them feel smoother and visually more engaging.

Designers can add a lot of dynamism by simply hiding and revealing strokes or lines in font logotypes. The challenge is to find the equilibrium between recognisability, legibility and simplicity.
4. Depth gradients


Colour gradients are far from new in visual design, but there's still room for experimentation when it comes to blending and merging colours. Using gradients to convey 3D complexity in flat design is something that will pop up in more and more logos.

According to the vision of Meta, Facebook's future could end up in 3D social spaces. The Meta logo aims to communicate that: When the colours are flat, it resembles a 2D infinity symbol and by simply adding a slight gradient to the shape, it becomes the side view of a hyperbolic paraboloid. The same 3D shape makes Pringles immediately recognizable.
We can see why depth gradients will gain momentum in logos in the upcoming years. No need for complicated perspectives or drop shadows to convey depth. Instead, consider a clean and simple approach that improves the visual fidelity of otherwise simple logos.
5. Variable & Responsive logos
Variable logos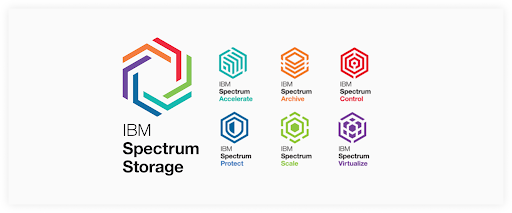 Variable logos will remain amongst the modern logo design trends of 2022. Everyone regards the logo as the single most representative feature of a company, so how come some people use more than one? To this tricky question, I can only say you have to play it smart. IBM Spectrum or Firefox provide good examples.

They gather their — sometimes unrelated —  individual products under a unified family. They maintain consistency by keeping the essential part of the logo and changing the rest. This way, the memorable part (the idea) stays intact while you have a ton of freedom to play around with.

Although there's a clever way to do it, we have to be careful with these variable logos. For example, many believe that Google was not careful enough when designing the new G suite logos. Yes, the new logos cleverly include Google's four colors to create a nice visual consistency. Looking at these logos one by one, they have a contemporary and clean look. But these logos are icons in daily use.

Countless users are clicking and tapping on them many times a day. Since the new logos are so similar looking, you find yourself taking longer to open any Google app because you have to make sure you're launching the right one. We have to make sure in what context the logos will be used, and with simple UX research, these inconveniences can be easily avoided.
Adobe's Creative Cloud logo was changed from solid red to a multicolor gradient, suggesting more inclusivity. Not only does it represent creativity, but it also brings the colors of their many applications under one umbrella.

To some, it might seem cliché to introduce the colors of the rainbow into a logo, but as we saw through the years, it has been trending amongst other big company logos.

Adobe also categorized their apps by Motion, Video, and Photography, with a single color per category, which might not be the best strategy. It might not happen that often, but it might take more time to distinguish one app from another for a person who uses only photography-related apps.

In Adobe's case, differentiating apps quickly would be more important than knowing which package they are included in.
Should you follow logo trends?
After reviewing the most popular logo trends for 2022, you might start to wonder whether or not you should follow trends or just keep it original? Well, there isn't a simple yes or no answer to this. The world is constantly changing, so you shouldn't be afraid of embracing change.
Successful brands are simultaneously striving for freshness, timelessness, and originality.
According to Paul Rand, who set the benchmark for corporate branding by creating identities for IBM, ABC, and UPS, among many others:  "The principal role of a logo is to identify, and simplicity is its meaning. Its effectiveness depends on distinctiveness, visibility, adaptability, memorability, universality, timelessness, and simplicity."

Dave Schools, the editor of the Entrepreneur's Handbook, used Rand's philosophy to create a seven-step checklist. Schools call this the Paul Rand Logo Test and set up seven easy-to-follow guidelines to help determine the value and scope of a logo.
Although Paul Rand wouldn't argue that incorporating elements from the latest logo trends can be a good strategy, the most important aspect of creating an effective logo design is to visually represent your brand's identity in a simple and universal way.
At UX Studio, we're always taking brand personas into consideration and ensure that the logo reflects what a business does and resonates with its target audience. So while logo trends may come and go, following this seven-step recipe will definitely set you on the right path for creating an effective logo: 
Is your logo distinctive?

Is your logo visible?

Is your logo adaptable?

Is your logo memorable?

Is your logo universal?

Is your logo timeless?

And ultimately… Is your logo simple?
+1: If you want to dive deeper into what makes a logo, try playing around with this logo integrity experiment created by Jim Nielsen.
Learn more about current and future trends in UX/UI
Want to know more about the UI trends of 2022 and what are the things that people love? Read our article about 10 UI trends of 2022.
Wondering what could be the UX design trends of 2021? A new design language? Or chatbots? These are cool things, and many people will list them as the hot UX design trends of 2022, but we think there have to be more out there. Here are our ideas about UX trends for 2022.
Searching for the right UX agency?
UX studio has successfully worked with over 250 companies worldwide. 
Is there anything we can do for you at this moment? Get in touch with us and let's discuss your current challenges. 
Our experts would be happy to assist with the UX strategy, product and user research, UX/UI design.
Read the full article here