We are honored to rank among the top product design companies according to Clutch Global Award. Clutch is a reputable field guide for B2B agencies, so we collected each eCommerce web design company with higher ratings in their database. We reviewed their portfolios and services and created our top list of eCommerce web design agencies to work with.
When assembling our list of agencies, we made sure to have a colorful collection: You will find small teams and design giants. Agencies with specific eCommerce platforms in focus and full-stack eCommerce design companies. Options for the more budget-conscious and partners for those who can splurge.
We hope our list will serve you as a guide and help you find your eCommerce web design company. If you have any questions after looking at our list or feel the need to clarify the different services a design agency can offer, get in touch with us, share your questions, and our business development team will get back to you with everything you need to know.
Top eCommerce Web Design Companies To Work With In 2022:
UX studio
An award-winning global agency with broad expertise, including user-centric eCommerce web design.
UX studio is a digital product design agency based in the heart of Europe. With our headquarter in Budapest, our international team of UX designers and UX researchers work with businesses from all over the world. 
Our agency was founded in 2013, and since then, we grew into a team of forty motivated designers and researchers who strive to make our digital world better and design products people love to use. We are thrilled to be among the top B2B business service providers, according to the Clutch Global award and to be a Zeplin Agency Member. 
We have experience in completing eCommerce website design from scratch as well as UX research services for eCommerce platforms, which gives the team a unique skill set when working with our partners. As a global web design agency, we are used to collaborating remotely with our partners from all over the world. If you are looking for such a versatile expert team to help you build your product, message us, and we will be in touch with you to arrange a consultation with our experts.
One of our most treasured collaborations in the past was designing a custom eCommerce website for a high-end fashion store. During this project, our team of two UX experts worked closely with the creative director, head of fashion, head of communications, and the digital project manager of our clients.
During the collaboration, the UX studio team gained a lot of industry insights as well as some of the best eCommerce website design practices. We were also able to learn more about integrated email automation.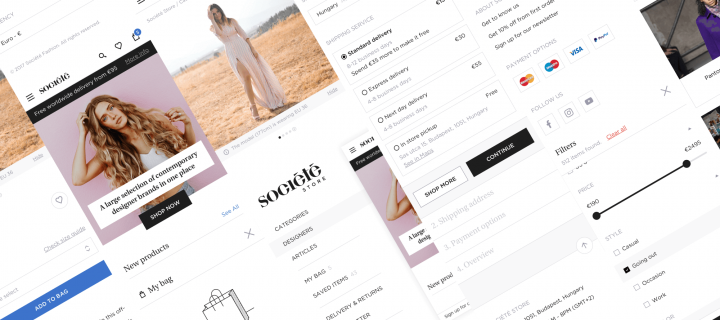 The importance of having UX professionals on board the process of eCommerce designing also became clear during one of our ongoing long-term collaborations with an eCommerce company. Our UX researcher of the project is now an expert on topics such as shopping cart abandonment and how to make the customer experience as smooth as possible.
Apart from our eCommerce website design services, we are proud to be working with companies of any size from any background. We are especially thrilled that we had the chance to collaborate with world-famous clients, such as Google, HBO, Netflix, and the United Nations World Food Programme.
Are you looking for the perfect team to help with your project? Get in touch and one of our business development experts will get back to you to discuss your current product design challenges and ways we can help you.
Mobikasa
Strategic brand communication with custom web design delivered by eCommerce web designers and developers.
Mobikasa is a development and web design company with a focus on eCommerce, founded in 2010. Today they have offices in Los Angeles, New York, and New Delhi. The team is made up of over 150 professionals who have worked with over a thousand satisfied customers since the company's kick-off.
Mobikasa's visual designers and UX specialists make sure their clients receive the most useful and elegant solution. The team is also an expert in eCommerce website design, which makes them equipped to create innovative solutions that engage their partners' target audience. 
This combined expertise in UX design and eCommerce design is a great asset for designing web, mobile, or tablet apps that can generate more traffic and increase profitability. Once the design is ready, the outstanding developers and engineers of the team bring the solutions to life so clients can start using their new product as soon as possible.
Mobikasa partners mainly with small to mid-sized companies, with a few enterprises in their client portfolio. Their prices start from $25 an hour, with a minimum project size of $10,000, according to Clutch.
Absolute Web
An eCommerce web design company with over two decades of experience in helping clients grow and thrive.
Absolute Web is an eCommerce web design agency with offices in Miami and Los Angeles. They have over twenty years of experience in digital design, and they have evolved with and know of all the trends that affected eCommerce website design since 1999.
The expert team consists of digital strategists, UI and UX designers, project managers, developers, and trend forecasters. Their goal is to create engaging experiences for users, increase online conversions, and improve lead generation for their clients.
To make sure their clients get the best eCommerce solutions, they design websites that customers can use seamlessly. The design is then developed by in-house front-end and back-end developers who have experience in working on applications for eCommerce platforms, such as Magento and Shopify.
Based on their Clutch profile, Absolute Web partners up mainly with small to mid-sized companies, with only 10% of their clients coming from enterprises. Companies wanting to work with them should budget with a minimum project size of $10,000 with hourly prices starting from $100.
pb+j
A web design agency determined to fill the world of eCommerce with magical customer experiences.
Founded by Kyle Dutka and Tom Collver in 2013, pb+j is a Toronto-based eCommerce web design company.  They are a unique and fun team of professionals with expertise in digital strategy, website and eCommerce design, and creating brand identity. 
The pb+j team partners with small businesses and mid-sized companies to either start from the beginning of bringing an idea to life or reinvent something already existing. 
They follow a three-step process when creating their solutions: Firstly, they focus on strategy by carrying out competitive research, user research, or growth roadmapping. Then they create the design keeping the visual brand guidelines in mind. Lastly, the team develops the product, so their clients — or patrons, as they call them — end up with an easy-to-manage website and increased customer acquisition.
While they have years of experience working as a design agency, the team also created and launched their own eCommerce business. This gave them more insights and helped them to establish the best ways to design and build a successful eCommerce website.
Businesses looking to partner with pb+j should start budgeting for a minimum project size of $25,000 and an hourly fee starting from $150, based on information on Clutch.
Roswell
A business building businesses with one singular goal: growth.
Roswell is a New York-based eCommerce web design company. Soon after its kick-off in 2011, the team identified the importance Shopify has on the eCommerce industry, so they decided on focusing on this platform. They became one of the first Shopify Plus Partners, and the strong relationship between the agency and the eCommerce platform still continues.
The team of thirty-three professionals doesn't only build eCommerce websites but also has a holistic approach to creating an online identity. Their strategy has three stages: Design and creative, eCommerce development, and growth and marketing.
At the first stage, they concentrate on UX and UI with a design team with a mix of professionals who make sure the clients receive the best end result. The specialist eCommerce designers, art directors, and brand strategists work on usable design concepts while content creators make sure they stand out by being informative and inspiring.
Once the design is done, Roswell's first-class engineers develop the designs into products for the end-users, and they can also develop additional loyalty applications or email marketing platforms.
At the third step, the team ensures their eCommerce website design will be found by customers and will perform as desired. To achieve these goals, they offer services in digital marketing and customer acquisition, customer retention, analytics, and conversion rate optimization.
Based on their Clutch profile, their partners are mainly startups or mid-sized companies, who are ready to spend an hourly fee starting from $150 with a minimum project size of $10,000.
Neuralab
An eCommerce web design company turning ideas into products people use and love.
Neuralab is a design agency, founded in 2008 in Zagreb, Croatia. Today they also have an office in New York and work on projects with clients from all over the world. They work on all types of mobile and web applications, including eCommerce platforms.
The in-house team of specialists works on all types of projects, from the first sketches to the finished product. The UX and UI designers keep the latest trends in mind while the developers implement the latest technologies to make sure their clients end up with a perfectly executed product.
They follow a six-step cycle when working on products. First, they look into the initial idea with their project managers and their clients' teams. After the initial meetings, the main creative step follows: An iterative design and copywriting process based on regular feedback. Then the professional developers bring the product to life.
After this, the second part of the cycle starts: From the moment the product launch, the team monitors its performance and optionally provides 24/7 support to resolve any issues as soon as possible. Secondly, they gather data, comments, and feedback to learn from to complete the cycle's last phase of implementing improvements.
According to Clutch, Neuralab's client portfolio includes mid-sized companies and enterprises. Their prices start from $100 an hour with a minimum project size of $10,000.
Staylime
A Magneto website design company that delivers eCommerce solutions and engaging shopping experiences.
Staylime is an agency specialized in eCommerce design and development of websites and applications for Magneto. The company was founded in 2011 with its headquarter in Redwood City, California.
Their services include Magento consulting and development, including extension development and theme development, migration and integration, as well as marketing services and maintenance and support. 
Alongside these technical services, they also specialize in UX and UI design. They go through the usual design processes that design agencies follow. The only difference is that they always have the end platform — Magneto — in mind. From the initial idea, through brand identity creation, wireframing, and final development, their clients end up with an eCommerce website design that stands out from the competition
Staylime provides eCommerce design and development services to companies of all sizes, with services of different magnitudes. They can build online stores from scratch or fine-tune an existing website or application, all with the goal of creating engaging online stores and improving conversion rates.
Companies wanting to work with Staylime should budget with a minimum project size of $5,000 with hourly prices starting from $50.
Emizentech
A Magento Solution Partner familiar with most reputable eCommerce platforms.
Emizentech started its journey in 2013 in Jaipur, India. Originally a development agency, by today, the team grew to over 200 professionals with many specializations. As one of their main profiles is helping online stores grew, they have a solid place in our eCommerce web design companies list.
They are a Magento Solution Partner with a wide range of services for the eCommerce platform. They are experts in Magneto web development and front-end development, data migration, and performance optimization, but they can also help create responsive themes or multilingual online stores
The Emizentech team is not only familiar with Magneto. They are ready to become a partner in creating online stores for most reputable eCommerce platforms, such as Shopify, Salesforce, Opencart, Shopware, and Bigcart, just to name a few.
The team mainly partners with startups or mid-sized companies with a few enterprises in their portfolio. Based on Clutch, their prices start from $25 an hour with a minimum project price of 5,000.
Codal
An eCommerce web design company with the mission of making the digital world a friendlier place.
Codal is a Chicago-based digital design agency founded in 2009. The team specializes in UX and UI design, web and mobile development, and eCommerce solutions. The company started with the goal to stand out from agencies of the time by providing clients with transparent and efficient solutions that address the real needs of users.
The team consists of professionals from various backgrounds, bringing a unique skill set to the company. They make sure to create eCommerce solutions tailored to their clients' unique markets and their mission statements.
Codal's eCommerce experts have years of experience designing for Shopify Plus and BigCommerce. Data analysts and website designers work together to identify the best solutions to help their partners reach their business goals.
Once the user experience design is ready, UI experts polish the product. Considering everything from the impact of typography to color theory, they create a pixel-perfect design that is ready to be developed by in-house programmers.
Codal brings eCommerce solutions mainly to enterprises, including some of the biggest brands, but there are some small to mid-sized businesses in their portfolio as well. Based on their Clutch profile, companies hoping to partner with them should be ready to spend an hourly fee starting from $150 with a minimum project size of $75,000.
Built by Blank
A team of eCommerce web designers helping brands strategize and define their digital experiences.
Built by Blank is a Los Angeles-based eCommerce web design company founded in 2009. This full-service digital product agency develops for the most reputable eCommerce platforms, such as Shopify, Shopify Plus, Magneto, and BigCommerce.
They understand that even the best content can't work properly without good user experience, so the team includes eCommerce website designers with a specific UX focus. They follow a lean UX approach and make sure their marketing specialists are also aware of UX processes. This way, they can implement a user-centered approach from the beginning to the very end of their services.
Build by Blank works mainly with small to mid-sized businesses with a few enterprises in their portfolio. They accumulated experience working for clients from various industries, including fashion, real estate, financial services, and transportation. Regardless of the company size or the sector, the ultimate goal is always increasing revenue and user acquisition. 
Businesses looking to partner up with Built by Blank should budget with a minimum project size of $5,000 and an hourly fee starting from $25, based on information on Clutch.
What is eCommerce website design?
An eCommerce website is an online platform that allows people to buy and sell goods, products, or services. With the whole world going online, having an online store is becoming a must for all types of businesses. Ecommerce website design refers to the layout and presentation of these various online stores, but the term also coins the process of creating such a website. 
What makes a good eCommerce website?
In a nutshell, a good eCommerce website design is both visually enticing and easy to use.
Visual appeal is important. Without a unique and sophisticated eCommerce web design, customer retention is nearly impossible. At the same time, a beautifully designed custom eCommerce website can be completely useless without the right user experience.
But it is not as easy as it may sound. It is a complex process —  from planning and conceptualizing to creating and arranging content based on data and research while constantly implementing iterations — that an eCommerce website designer has to follow to create an online platform that can help businesses reach their goals.
How to build an eCommerce website from scratch?
The short answer? If you are not an expert, find an eCommerce web design company to help you with this enormous task. 
There are guidelines and best practices and endless tips and tricks all over the internet. But the truth is that only experts with prior knowledge of UX design and research will be able to navigate through the complex process.
We are happy to help you on this journey! Get in touch with us, and we will get back to you to arrange an online consultation. After the consultation, we will be able to find the best solution for you to reach your goals, create a roadmap, and start a successful collaboration as soon as possible.
How much does an eCommerce website cost?
As with most custom design services, there isn't a one-size-fits-all answer. The prices can vary from agency to agency, but other factors can impact the price as well.
In our list, the minimum project sizes are between $5,000 and $75,000. However, it is important to point out that a minimum project can be a short audit or a design fix. A minimum project doesn't always mean the whole process of designing and developing a whole eCommerce website from start to finish. Some factors to consider are:
Design
You can choose between a fully custom eCommerce website or just using a template (if the agency is open to doing that for you). Naturally, the difference between the prices of these two solutions can be enormous due to the difference between the workload and time needed for them to execute.
Functionality
The more complicated and unique functionality you want, the more you should budget for the project. The more complex design and research processes result in an elongated project timeline due to the well-needed iterations. But it also affects the complexity of the development of your custom eCommerce website.
Company Selection 
Unfortunately, the price of a service does not always reflect the quality you will receive. For this reason, you will have to budget more if you want to work with a company that will provide you with more value. A reputable company associated with only the biggest enterprises will cost more than a similarly talented team of a smaller agency. 
Not limiting your options to your location and outsourcing the task overseas can help with reducing costs without compromising the value you receive. 
Searching an eCommerce Web Design Company?
UX studio has successfully handled over 250 collaborations with clients worldwide.
If you are looking for an agency to help with building your customer-friendly online store, book a free consultation, and our team will be in touch with you to assess your needs and help define and reach your goals.
Our experts would be happy to assist with the UX strategy, product and user research, UX/UI design, and UX training.
Read the full article here