You'll find the best UX agencies in this article with a comparison. We shamelessly put our expert design agency on the list as well. Let's jump right in and look at the top UX agencies list.
At first, there is a list of the top 10 UX agencies with a brief description of each. We've also made a comparison of the top UX agencies according to the following criteria:
Usability vs Visual Design
Concepts vs Implementation
Advertising vs Product
Digital vs Physical
Culture and atmosphere
Speed of starting the collaboration
UX research
Prices
Should you need more insights on what a UX agency can do for you and how to choose the best UX company among hundreds of options, we share a brief and informative summary of everything you should know before you hire a UX UI design agency at the end of this article.
If you are looking for a design partner, let's get in touch. We are ready to help with any product design and research challenges you might have.
Without further ado, the top UX design agencies based on our judgment.
---
Top 10 UX Agencies 
UX studio
Award-winning European UX design agency working with companies worldwide.
UX studio is rated as one of the top UX design agencies worldwide according to Clutch and other independent ranking firms. 
UX studio in 2013 to become a world-class digital product design agency. UX studio's still one of the fastest-growing among the top UX agencies.
We're proud to share this picture of our enthusiastic and multicultural team. Challenges do not scare us but excite us. We work hard to help our clients build their dream products and have fun during our retreats.
The impact from our work and the value we provide to our partners are recognized by world-known companies such as Zeplin and the leading rating platform for business service providers, Clutch.
If you are looking for a UX design agency, contact UX studio. We are ready to help you with any design and research challenges you might have. 
UX studio dedicates designer and researcher teams to work alongside our partners to create appealing and easy-to-use digital products. 
As a global UX design agency, we work with many partners in different countries. To manage remote collaboration effectively, we have created a framework that enables us to work with startups and industry leaders worldwide.
Google, HBO, Netflix, The United Nations World Food Programme (WFP) count among UX studio's best-known partners. 
As an example, together with the HBO product team, we managed to redesign the HBO GO platform for web, mobile, tablet, tv, smart tv, Xbox, and PlayStation.
It's a real gift to work with different companies in various industries across the globe. As an established UX design agency with over 10 years of experience, we have worked in fintech, fashion, digital solutions, traveling, education, and healthcare industries, just to name a few.
If you are looking for the right UX agency, we will be happy to help. Send us your details and get a quote. We will be in touch with you to discuss your challenges further, and to come up with a custom solution for you!
Besides excellent design work, we run a product design course every six months, to share our knowledge and expertise with the world. Some of our students join our team and later on become our experts. While our partners get personalized training that helps them to adopt a UX mindset to reshape their business structure and keep users happy. 
We also run a popular UX blog, read by more than 30,000 avid readers a month worldwide. 
In addition to working on our clients' businesses, we develop our own digital products —UXfolio, Copyfolio, and Archifolio. These are portfolio builders for designers, copywriters, and interior designers. We strive to accumulate and share our experience and the latest trends within our team. It gives us a unique perspective on the industry and the best design solutions for our clients
Developing both our own and our partners' products gives us a unique view of industry trends and the most up-to-date design solutions. 
If you are looking for a design partner, we would be happy to bring your ideas to life. Message us and book a free consultation with our team. Within an hour we will discuss your goals, challenges, and define the next steps.
Ideo
A global product design and innovation company established in 1991 in Palo Alto, California.
A legendary innovation firm based in Palo Alto, California, Ideo started in industrial design in 1991. They have worked with most of the big brands around the world, based on their very strong presence in the tech world of Silicon Valley. I can't write about top UX agencies without mentioning Ideo.
In their early days, Ideo famously designed the first-ever Apple Mouse. They also designed one of the Palm PDAs (if you remember PDAs at all).
Later, as software became more and more important, Ideo turned to interaction design. Founder David Kelley realized early that they had to convince their client companies' managers to follow their design methods. To that end, they came up with the term "design thinking".
They rebranded the designer's mindset and methods as management practices. They then persistently pushed the idea for more than 15 years until it became part of the curriculum even in major business schools.
Most famous for their innovative work and the love of prototypes, Ideo provides diverse teams with designers, engineers, and researchers to a project. There they can think freely, build fast-and-loose prototypes, and present clients their big ideas.
It is not a coincidence, Ideo is one of the top UX agencies. They work on innovation projects for big enterprises that want to bring back the start-up spirit. Their projects rarely end up with tangible products.
Although they rank as one of the most expensive firms on the market, critics often mention how they usually present only a raw prototype in return for the large pile of cash. Despite these critics, Ideo has become one of the most popular design firms. They also invest heavily in design education.
Digital Telepathy
A San Diego-based UX design agency, Telepathy originally started as a web design firm in 2011 and later became a UX agency.

Well-known for his tribe-building ambitions, the founder Chuck Longanecker provides his 45-person team a fancy office. Upon entering, you see the words "I am because we are" written on the floor, highlighting the community spirit they try to maintain there.
Telepathy's most famous clients include Adobe, Patagonia, and Marriott. They work together on fixed projects or through design subscriptions. The team also holds trainings and workshops.
Acclaimed for the sleek design of their website, Telepathy also runs a blog that attracts 300,000 readers a month. The team has also incubated many products and has built Hello Bar.
ServiceNow recently acquired the company, so they have probably stopped taking on clients for now. The team has stayed together and is working on ServiceNow's enterprise products.
Telepathy employs 45 people in its San Diego office.
Fantasy Interactive
A global UI/UX design agency with offices in the US (New York, San Francisco, Miami) and London.
David Martin founded Fantasy in 1999 but no longer serves as CEO. The company gained fame for the beautiful UI design they always presents. Their own brand has a very strong visual presence as well, with an almost too-professional taste.
Fantasy gained notoriety with their "What if?" videos when they reimagined the digital products of certain industries in a new, modern way. These early videos showcased their high-end visual design skills and contained animated UI designs, rather common back then.
Since their early days, Fantasy has grown into a much bigger digital agency. They now work with big corporates like Porsche, USA Today, and Mitsubishi.
Fantasy currently employs about 50 people, down from a few years ago when they enjoyed even greater popularity. 
Frog
One of the oldest industrial design agencies that has been working with clients for over 50 years. 
One of the old players in the design world, Frog turned 50 last year. Originally more of an industrial design and branding firm, they turned to the digital world and became better there as well as technology evolved.
Frog does everything, from designing furniture and hardware to branding and mobile apps. To compete with Ideo, Frog also got on the innovation bandwagon. Now you can read the terms "digital transformation" and "strategy" on many pages of their website.
Should anyone declare a single multinational design company, Frog would earn that title. They currently operate from 10 offices around the world.
Still strong in industrial design today, Frog shines best with projects where digital interfaces, hardware, and branding all get involved together.
Frog employs more than 500 people.
Designit
A global UX design agency with over 16 studios worldwide.
Alan Cooper and his wife Sue Cooper founded their eponymous company in 1992. Although a professional manager now runs it, the founders remain involved in certain areas, earning them a place on our top UX agencies list.
One of the great veterans of the software industry, Alan Cooper fathered the Visual Basic programming environment and became a real hero in the Microsoft ecosystem. One of the few who realized the importance of design during these early days, he has written a famous book about software design, About Face.
Today, Designit (formerly Cooper) works with companies like Google and Starbucks on interaction design and service design projects. They also take an active part in design education with different courses, boot camps, and trainings.
In 2017, the Indian IT giant Wipro Digital bought Cooper. They now work together with the firm's international design conglomerate Designit.
Fjord
A big multinational design agency that makes up a part of the Accenture management consulting firm.
They mostly do pricey projects for Accenture's clientele.
Originally founded in Europe, Fjord now has 27 offices on all continents. How many of these count as Fjord and how many as Accenture remains unclear.
As part of a management consultancy, Fjord takes pride in how they shape the strategy of their clients through design. They also work a lot on service design, which lets them use design methodologies from outside of the tech world and implement them to reimagine offline services.
Fjord employs more than 500 people around the globe, but their merger with Accenture has complicated the headcount.
Work & Co
One of the fastest-growing agencies with 270 people in their offices in New York, Portland, and Sao Paulo.
The name Work & Co comes from the two things that matter most in professional life: the work you do and the company you surround yourself with.
Agency veterans founded Work & co and quickly got famous tech companies like Google, Apple, and Facebook on board. One of the fastest-growing agencies, Work & co went from zero to hundreds of people in just five years. This makes it not surprising that they get mentioned among the top UX agencies now.
One of the key Work & co promises: They put senior designers and senior engineers on each project. In the company, they have 14 partners. They emphasize the fact that one of them personally runs each client project.
With their current size, this means each partner has to oversee 20 people and at least three or four different clients, making it incredible that they can still live up to their original promise.
Work & Co did their first and most famous project redesigning the Virgin America website. The bold new interface won numerous awards and serious attention in the UX community. Unfortunately, that redesigned site no longer exists online anymore, since Virgin America experienced serious financial difficulties and got sold to Alaska Airlines.
Method
A global design and engineering consultancy, passionate about delivering quality craftsmanship and business value.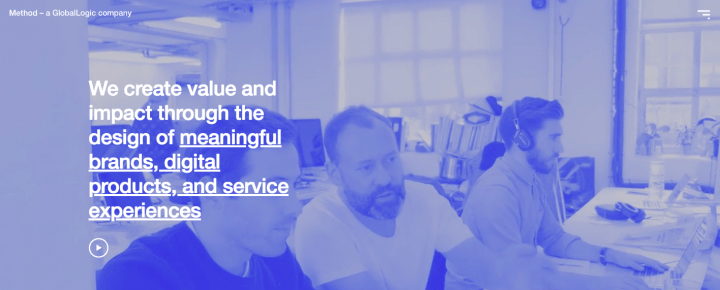 Method was founded in 1999 on the belief that design and technology could create more value for businesses. Over 20 years later, they're still dedicated to using their craft to make lives and businesses better. Today as a UX / UI agency, Method provides strategy, UX/UI design, and software development services.
Method is also part of GlobalLogic, a product engineering company with over 25,000 employees in 12 countries. Method does the design and GlobalLogic does web development, mostly building products for enterprise companies. Method's own brand uses a strong blue color popular in the corporate world.
Method has headquarters in San Jose, New York, and London, but together with GlobalLogic, they have 30 offices in 12 countries around the globe.
The Method UX agency employs around 250 people.
Nielsen Norman Group
A UX consulting firm organizing trainings, research, and advisory services to other companies.
The fathers of the UX profession founded NN/g as a UX consulting firm. And if you find it an overstatement, just look at these guys.
The first person to hold "user experience" in his job title, Don Norman joined Apple as a user experience architect in 1993. Together with Jacob Nielsen, another pioneer of web usability (or "web ergonomics" as they called it two decades ago), they invented many fundamental things in this field.
The NN/g team has great knowledge of the foundations of design and usability. They have gained renown for their research studies which they publish on their website. They highlight the importance of UX research everywhere. Even their slogan includes the phrase "research-based user experience".
As you would expect from a company run by industry veterans, NN/g focuses on teaching and giving advice. They don't do actual design projects but organize teach UX, organize conferences, and provide research and advisory services to other companies.
Today NN/g acts a bit like a wise grandpa for the UX industry. They don't come up with cutting-edge new ideas anymore but teach the younger generation and test new trends. They also publish research reports to give feedback and help the industry stay on the right track.
---
Comparing top UX agencies
Although these companies are experts in UX design, each of them has its own field, where it shines on the market. This section will examine the most important attributes of the top UX agencies.
Full disclosure: These charts represent my opinion based on personal experience and industry insights. As I said earlier, I also have personal involvement in the UX design profession, so don't take my blog post as independent research material. I have done my best to give a realistic view of the top UX agencies.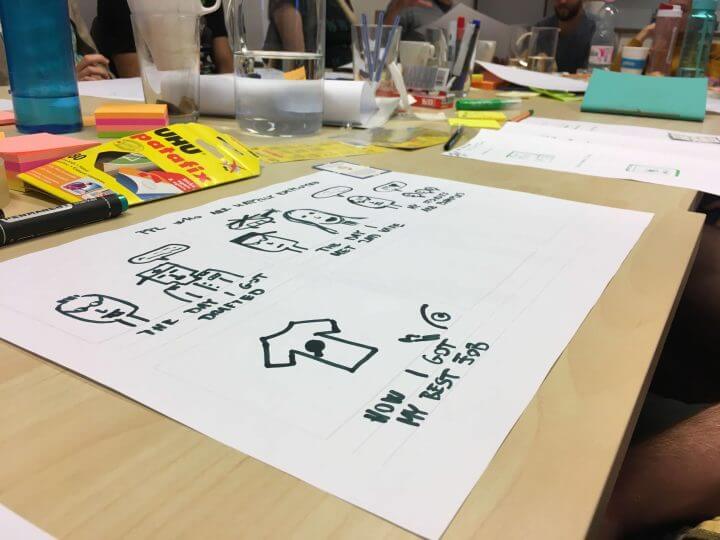 Usability vs Visual design
Each agency has a slightly different philosophy of design. Some focus more on visual design and branding, while others obsess over usability and making everything easy to understand.
By now, all UX professionals agree a good-looking digital interface is not sufficient. Usability is one of the most important factors of success. For this reason, almost every big brand builds super user-friendly apps that follow the design principle of clarity and simplicity.
Nevertheless, the best designers do not give up on visual design. They still acknowledge that the aesthetics of a product can contribute to its success.

No single best answer decides the aesthetics/usability dilemma. Everyone should evaluate their own products and services, and decide what to focus on next. Some industries see usability as king (millions use Wikipedia even though no one finds it the most beautiful website on Earth). Other scenarios make it worth spending more time with aesthetics.
All the design agencies on the list can do outstanding work both in visual design and usability. But on this chart, I tried to rank them based on their primary focus.
Concepts vs Implementation
You can find the fancy word word "strategic design company" on the websites of many UX design firms. But what does it mean?
A few decades ago, when you said the word "design", everyone thought about the visual appearance of a product only. Later, usability became one of the most important factors. Today, designers spend most of their time creating products that make our lives easier.
In the meantime, design professionals have got a lot of useful skills and methods. These include prototyping, researching what people need, workshop facilitation, ideation sessions, and strategy creation.
Data analysis also came into the picture with the digital world. Later, we realized that these skills don't just come in useful in design projects, these methods can help define a company's business strategy as well.
Many designers today don't work on designing products, but on defining strategies or exploring new concepts for companies. Large corporations love to run innovation projects where they can experiment with new ideas.
They don't aim to create a functioning end product, but to research, the market, come up with many concepts and test the viability and feasibility of these ideas. Critics always mention how they rarely end up in actual products and new businesses.
Some companies like Ideoentirely focus on innovation projects. Others take pride in the fact they do hands-on work and focus solely on implementation, like Work & co.
Many others try to keep a healthy mix. Both of these focus on strategy when needed, but they can also turn ideas into real, working products.
Advertising vs Product
Businesses use digital interfaces in two main areas: marketing/advertising and products.
When you visit a company's website, you are probably looking at a marketing side intended to provide information about the firm and promote its offerings with effective messaging.
Many UX designers work on these advertising-related interfaces, which focus on pushing the marketing message through. They try to ensure people can find the information need to make a purchase decision.
Products make up the other big area of UX. In this case, UXers work on tools that people will use for a certain purpose. Most of the mobile applications fall into this category. Desktop software provides a good example as do web applications like Gmail and many other SaaS products you can sign up for.
Sometimes, no strict boundaries separate promotions and products. We can consider a webshop a promotional interface, but also as a purchasing tool that has a lot of usability aspects to consider. One company can have both advertising sites and products. Nike has a promotional site for its shoes and a tracking app for runners.
Some agencies specialize more in advertising and marketing interfaces, while others focus on products only. The top UX agencies on this list have vast experience in working on both types of interfaces, but some do better in one category or the other.
The chart below shows who has more experience in advertising-related and product-related work based on my opinion.
Digital vs Physical
By default, most people think UX agencies work on digital interfaces like software, websites, and apps. While this holds true, many agencies have skills in other mediums as well.
Many teams get together originally as industrial design firms. They come to excel at designing physical objects and hardware devices. These companies work on many connected goods and IoT products nowadays, where they can use both types of their design skills.
Other teams start using UX methodology in non-digital projects. We call this "service design" when we broaden the scope of design from digital-only products and start designing omnichannel services that have physical aspects as well.
Big telecoms love service design as their services cover both physical touchpoints (stores, installations) and digital experiences.
And of course, other UX agencies specialize in digital products only. They usually hire people born in the digital age—real digital natives who have mastered the art and science of creating great digital experiences. They focus on this area only, and they do best in digital design.
Culture and Atmosphere
Although measuring and categorizing may come quite difficult, team culture makes up one of the most important factors when choosing a UX agency. Teams with the right culture and mindset can generate much more value than those with bad habits or who get overwhelmed with internal issues.
Usually, like-minded easy-going people, UX designers have great communication skills. Still, each agency has its own preferred way of working and collaborating. Some have a real startup-style internal culture, with all the flexibility, agile practices, and so much enthusiasm!
Others play it cool, with a more professional atmosphere. They like to communicate through well-designed presentations. Loose Slack messages annoy them!
I tried to put the teams on a scale from the startup-style atmosphere to the corporate culture.
UX research capabilities
As mentioned earlier, the designer's role has gone through major changes over the last 20 years. Today, creative design companies don't design beautiful screens only. They decide which products to build (concepts and strategy) and how to make them easy to use and understandable (usability).
To live up to these challenges, UX teams have to master what we call UX research. A new profession, UX research uses many qualitative and quantitative research methods.
The UX research methods include interviewing, usability tests, analytics, and A/B tests to gather data and insights about why and how people are using digital interfaces. Lacking this data makes it nearly impossible to build a successful digital product.
Most of the teams on the top UX agencies list have UX research consultancies capabilities. Some of them offer UX research consultancy, UI research, teach designers to do research, so one person can collect the required data to make design decisions.
Others have dedicated UX researchers and UX research consultants. On this chart, you can see which agencies do the most UX research work.
Speed to start a new project
Depending on the popularity and internal organization of each agency, a new project can be started in different time frames. In some cases, you have to wait months to start working with a UX agency. Others can start new projects in weeks.
Naturally, a great team merits a few weeks' wait to work with, as the added value will bring back much more than the cost of a short delay. On the other hand, I understand the pressure many teams have on delivering products. In certain situations, you want to look for UX agencies that can jump on board quickly.
Leadership role in the design community
When you hire a design team, you want them to design an outstanding experience for your customers. Many people judge UX firms by their level of establishment within the design community.
This logic dictates that a studio must have earned its respect within the UX community.
The top UX agencies don't just practice design, but also teach what they do. Many best UX design agencies in the world run courses, boot camps, and trainings. Many run blogs where they share their learnings. Check out ours, where we post quite often.
The best designers often write books about their craft. And naturally, almost everyone on this top UX agencies list gives talks on meetups and conferences. Many also organize their own events or sponsor the local community.
On this chart, we have collected the most active agencies in the UX community.
---
How UX agencies price their work
And finally, we hit the sensitive topic: pricing and budgets.
UX agencies have many different pricing models. The most commonly used time-based pricing, when a company has hourly (daily, weekly) rates. You pay based on the time they spend working for you. Although this gives the collaboration flexibility, sometimes clients feel they can't really control their budgets, so costs can blow up in a mismanaged project.
Many teams do projects for a fixed price. In this scenario, clients have total control over their budgets. In many cases, fixed projects end up with arguments about the scope.
You can rarely plan upfront. And when unforeseeable obstacles arise, you either have to cut the scope (so the team delivers less than planned) or raise the budget (so you pay more). For this reason, fixed-price projects often lead to conflicts.
Typical UX Agency Pricing
Even on the top UX agencies list, huge differences can occur between UX agency prices. If we consider hourly rates, UX design prices can range anywhere between $50 and several hundred dollars.
Older and bigger companies usually charge more, as they have to cover more administrative and organizational overhead. Critics say that this extra price doesn't necessarily mean better results. Big companies usually like to trust bigger firms, which means lower risks for them. In most cases, they also speak the same corporate language.
Location-Based Pricing
Price can also vary based on the UX agency location. In San Francisco or London, prices are much higher than in Portland or Berlin.
On this top UX agencies list, Ideo, Frog, Work & co, and Fjord are the most expensive. You need a really big budget to work with them (and you can find huge differences between their prices as well).
You can't find cheap companies on this top UX agencies list, even though hundreds of them lurking out there. As someone said, you can always find a cheaper agency, but do you really want to pay the price of working with them?
I think of UX studio as a boutique UX agency working with modest prices—not too low, but more affordable for most of the companies out there. You can hire a design team (usually with a full-time designer and a researcher) at a reasonable price. 
If you feel your product does not perform as it should and you are unsure regarding your next steps, send us your details and get a quote. We'll help you define the right solution!
If you are looking for the top UX agencies that are better for small businesses, here is your list. 
---
What does a UX agency do

?
When you create a new product or redesign an old one, you most likely seek to improve its performance.
However, If users can't understand your product and its functionality, your chances of success will drop dramatically.
UI (user interface) and UX (user experience) can help you create easy-to-understand interfaces that will make users interact with your product in a joyful way.
The challenge here is to ensure your product has the best UI and UX that meet your user's needs and wants.
For this reason, UX designers and researchers are often part of the product team. They serve as a connection bridge between a user, the development team, and the key business stakeholders.
According to the Infragistics research report, general estimates of the value of an investment in UX design vary from a return of $2 to $100 for every $1 invested in user experience design. 
More and more companies understand the value of UX and consider UX strategy integration into their business.
In fact, according to our survey, more than 76% of respondents (PMs, Company Owners, CEOs) admitted they work with UX-ers in-house or hire external experts.
In the 21st century, user experience can't and shouldn't be neglected! UX agencies are the right partners that can help your business understand customer needs better, investigate and define the reasons behind poor product performance, conduct usability testing, and utilize insights to come up with a new, user-friendly design solution.
UI UX design agencies typically deal with the following:
Digital product strategy;
Product discovery;
User persona definition and analysis;
User testing;
Business idea validation;
Visual design backed up by research data;
Branding.
Not every business necessarily has the required UI UX expertise or enough capacity to create an in-house UX team. This is where a UX company comes in handy.
A UI UX design agency can be hired as a partner to share the expertise, provide in-house UX design thinking and strategy training, and help with research, visual design, and development.
All in one to help your business progress faster and win your user's love.
Interested in what you could achieve by working with design experts, share your project details with us. We'll discuss your goals, and challenges and suggest the next steps.
How to choose a UI UX design agency?
Hiring a professional UX design agency is not as easy as it may seem. There are hundreds of UX firms that want to attract your attention and eventually sign a deal. It is a daily job for them, but for you, it might be either a win-win or a win-lose collaboration.
Use these 4 proven criteria to select the best UX agencies for future collaboration.
1. Check a portfolio with former works
A project portfolio is a must for every established UX design firm. It serves as proof of expertise, it shows industries a company worked in and it communicates the quality level you might expect if you decide to work with a particular UX agency.
I strongly recommend looking through a portfolio of former works as it might already give you an idea if a company is the right fit or not.
What should you look for in a portfolio?
Examples of visual design;
Client names and links to their websites/apps;
Project types specification (design, research, branding, audit, etc.);
Former client's industries.
Evidence of project success.
You might not necessarily find all information in a portfolio, but I strongly recommend checking these details to select the most suitable UX partner.
At UX studio, we've created a case studies collection page, where you can find all the details about our former projects. Our aim is to be transparent and show the whole collaboration process in a clear way for our potential clients.
Our experts thrive to deliver more than just a final design; they run strategic workshops, collaborate with the development team, support design release, assist with features prioritization, and help to define the next product development steps.
These tiny moments can be crucial in the decision-making process, thus it's worth taking it into account.
2. Evaluate a UX agency's credibility
Does a UX agency have a reputable blog? Do other expert websites mention this UX company? Can you find former client names and testimonials? Are there notable partnerships and awards? Does a user experience agency have a LinkedIn page after all? Is it an established expert in the UX industry with a massive follower base and loyal brand ambassadors?
I mentioned multiple questions worth thinking of when you are in the process of a UX design firm selection.
Credibility is all about the company's profile and reputation on the Internet. It cannot always be controlled; thus, a simple Google search will help you figure out to what extent a UX design agency has an established online profile.
Besides, it is a great idea to check employees, get in touch with business representatives, and ask questions.
As a next step, get in touch with a few companies which you find the most promising. These will be your top priority companies that have a high potential to become your partner.
This way, you narrow down the search and save your time.
3. Search for evidence of the former project's success
I've already mentioned the importance of the former project's success as one of the criteria to estimate the company's expertise.
Even though it is not always easy to measure the value of UX design, this is how a lot of businesses will judge the return on the design investments.
Most likely, you redesign a website to achieve a better performance, increase conversion rate, decrease bounce rate, improve user flows, etc.
Appealing visual design is nothing without effective business performance.
To give you a bit of context, this is what we love to share with potential clients at UX studio:
This is a review we've got from our partner— France's leading travel app Liligo. 
The testimonial shows that the design solution created by UX studio was a huge success since it resulted in a 100% increase in bookings through the mobile app.
Whenever you search for a potential UX partner— look for evidence that proves the expertise.
Instead "Here is what we've done", look for " Here is what we've achieved".
4. Look for companies with established UX design and research processes
Leading UI UX agencies will not blindly do what you ask for. No, That's a wrong approach and a red flag.
You, as a client, want to hire real UX experts. They always listen to your problems first, ask the right questions, conduct research to define the core problems, and then offer solutions.
Experts investigate and then act!
Top UX agencies have established the design and research processes that they follow and adapt to the client's needs. You should be able to find this information online as well.
Here is how we begin collaboration with our clients at UX studio. We always aim to meet the client and get to know each other before we jump into the research and design.
As we are transparent, we show our working processes on the website. This way, more prospects can understand how we work and if we can collaborate.
As a final tip, I want you to answer the following questions and think about your feelings when you go through the list of agencies:
Does a UX agency website communicate well the services offered?
Are you able to see actual user interfaces designed by their UX experts? Are they visually appealing?
Do you want to learn more about a particular UX design firm after reviewing its website?
If a website and its content managed to hook you and establish an emotional connection, most likely, it's worth getting in touch with the UX firm.
As an experienced UX design agency with 10+ years of experience, we've also prepared 5 helpful questions to ask your potential UX partners.
These questions should help you compare the chosen agencies and pick up one that suits your needs the best.
There are hundreds of UX agencies to choose from, but only some UX design firms go the extra mile to WOW their clients.
Why choose a design and UX research agency in one
One of our core principles at UX studio is the following: never design without research!
We are avid believers that all business decisions should be data-driven. 
Chances are, you won't know exactly what your audience wants even if you understand your business well. Besides, customers will often surprise you with the creative ways they use your product. 
Let me share one epic example of Intercom, a world-known messaging platform. Their product team spent months designing a new functionality  — the Intercom map. This feature became extremely popular in a short time. However, it turned out that customers used it for entirely different reasons than initially planned. 
Instead of checking how many users lived in a particular city or country, Intercom's customers used the map to show it to investors and at conferences. 
Lesson learned: If you want to create a valuable product, you have to understand peoples' needs and wants first and incorporate users' feedback on every step of your product development process. 
This is why the best digital design firms hire user interface designers with user experience experts to create impactful digital products.
As a global design company, we would like to share three reasons why you should better pick an experience design studio and UX research agency in one for your next project.
1. You know the "whys" behind every decision
Numbers never lie.
If your product team wants to redesign a buyer journey, they should present you with numbers that back up their decision.
If your marketing team asks for additional resources for a new landing page design, the decision should be taken based on numbers, not because someone else is doing the same thing. 
It's sometimes challenging to set priorities when you work on an exciting product and want to exceed your customers' expectations in design, features, navigation, and functionality. However, it often turns out that less is actually more. Your customers would be as happy, if not happier, having a simple product that solves their needs. 
UX research consultants and UI designers can help you deeper understand your target audience and validate your boldest product assumptions. How? UX and UI teams collect quantitative and qualitative data about your product performance and recommend the right next steps. 
The outcome of applying a research-driven approach at work: prioritized development efforts, better resource allocation, and a customer-centric product people love to use.
2. You rely on experts who know how to do things right
Top design studios have proven-to-work UX research processes validated through many years of field experience. 
Besides, experience design studios utilize various UX research methods like expert review, UX audit, usability tests, and interviews to help you find the right solutions and design products that meet your users' needs.
You might think conducting usability tests is not rocket science, and anyone can do it. It's only true to some extent. 
Hiring the right participants for the tests, identifying valuable information, processing and analyzing the data, creating easy-to-use research repositories, and making impactful business decisions require expertise. 
When you hire user interface designers and researchers from a UI UX design agency, you pay for the expert opinion, efficiency, speedy and impactful solutions tailored to your business needs. 
You don't have to waste your valuable time and figure out what needs to be done in your particular case. 
You don't have to make the very same mistakes someone has already made earlier. 
Instead, you rely on a digital experience agency that will explore both the current state of your product and future business opportunities. 
The outcome: higher efficiency and time-saving.
3. You adopt the proven-to-work UX processes 
Working with UX and UI experts has one more benefit not many businesses think about. 
Best design companies not only cope with your product design challenges but also educate and help you set the right in-house processes.
Even if you partner with an experience design studio once, the impact of this collaboration might change the way you manage in-house product design processes. 
Let's say you want to measure the ROI of your UX investment but don't know how. The UX and UI experts will show you the right way to do it. 
By leveraging research insights, your product team can better segment your customers and understand their needs. Besides, your marketing team can create a tailored sales copy that addresses your customers' fears and uses the words they use. 
Doing business is no longer about selling. Instead, it's about nurturing relationships and transforming your customers into superfans. 
Working with the best design agencies in the world means having a reliable UX partner and strategic consultant that is ready to step in at any time to help you foster organizational growth and internal transformation.
The outcome: better in-house decision-making processes.
---
Searching for the right UX agency?
UX studio has successfully handled 250+ collaborations with clients worldwide.
Should you want to improve the design and performance of your digital product, contact us. We will walk you through our design processes and suggest the next steps!
Our experts would be happy to assist with the UX strategy, product and user research, UX/UI design, etc.
Read the full article here