2021 was an interesting year in UI design. Last year's events foreshadow big changes on how we use technology in the future. For this yearly prediction top list of UX Studio, we collected 10 of the latest UI trends, some ongoing, and some far reaching.
Many related articles mention things that have been trending for three years now.  And yes, storytelling, dark mode, ethical design, unique illustrations, and bold typography will remain the defining elements on digital platforms. We explained more about these in previous articles. As these elements have been on the radar for a few years now, we can't say that they are "modern UI trends" anymore, but rather, common knowledge. 
Let's dive into what the defining elements will be in 2022 based on what happened in 2021.
P.S. We've also analyzed the top product design companies to work with in 2022, based on our knowledge and expertise.
10 UI Trends 2022
1. Branding with unique illustrations
Digital or hand-drawn, 2D or 3D, custom illustrations, you name it. The free forms, unaligned elements, components, and vast asymmetry not only help platforms stand out from the generic, but also create a friendly and inviting environment that ensures a better user experience.
To make these pages stand out, these illustrations often come to life with complex motion design.  This dynamism makes it easier to capture users' attention and explain what the company or the brand has to offer at a glance. An enjoyable illustration can give websites or mobile apps their own personality, making them more memorable.
Furthermore, the feedback for such dynamism should be kept in mind as well. After an event takes place, feedback should be given to assure that the intended action has actually happened.
Moving elements and unexpected animations make users curious, inviting them to scroll further to see what happens next. Nevertheless, we have to be mindful of these bold solutions and take into account the industry that the website represents.
Whenever a change is made, it should be tested, keeping the conversion rates in mind. If used right, minimalistic with a touch of neat 3D illustration, a service website can still look current and professional.
2. Custom cursor interactions
To stand out, websites often implement micro animations and flashy over the top interactions. We've all seen interesting gimmicks and quirks that hook us into discovering every tiny detail the site has to offer. One of the most trendy interactions is when the movement of my cursor is an input, creating lively and fun results.
Technology offers more possibilities than ever before as our devices and their software improves year over year. Product designers and engineers have more tools to play with. Thankfully there are some brands that are open to wild ideas, so we can nerd out on the tiniest details.
3. Delve into the Metaverse
Ever since Facebook rebranded itself as Meta, there has been a buzz about what the future could hold in terms of how we communicate and live our lives in the Metaverse. 
For those who don't know, Metaverse is a combination of multiple segments of technology, including virtual reality, augmented reality, and video where users "live" within a digital universe. Its supporters think of it as the "next internet", and say it has immense potential. If Meta's plan works, we'll start to see the AR/VR markets skyrocket.
Meta plans to force prices down on their Oculus headsets like the Quest. Bigger markets mean more emphasis on developing new experiences on said platforms which can open new doors for UX/UI design. It is a new playground for innovation and technological advancements.
These User Interface trends will involve thinking outside the box, rather than sticking to the grid. Forget the UI that is restricted to screens. Instead, you should emphasize interactions that feel like they take place within the real-world environment.
In terms of Augmented Reality, Google and Apple have already introduced their own AR development platforms: ARCore and ARKit, that blend the physical and digital worlds. There are multiple approaches to AI UI:
Object-related, real-world objects that have tethered interaction
Fixed to screen space, where the user has to position the camera in a specific way
Real-world related, which uses the surrounding physical world.
Besides the headset, Apple invests in AR, and there's a lot of excitement around the Apple Glasses. Therefore, as a designer, if you haven't already, you should start expanding your knowledge with the upcoming AR UI kits. Additionally, you might also want to think through the context and function of AR experiences carefully.
As designers, we have to consider the fact that we'll have to get prepared and start learning new tools. The ability to create augmented reality interfaces and 3D elements might become a very useful skill in the upcoming years.
4. Utilizing 3D in e-commerce
3D has been here for a few years, and it is slowly gaining traction. Fortunately, we live in an era where technical efforts and achievements, such as rapid improvement of semiconductor production and software optimization in the last decade made even the lower-end devices powerful enough to tackle complex visuals in real-time. Thus, animated 3D UI is not a pain to utilize anymore.
In 2022, animated elements like logos, illustrations, and texts will thrive on web pages and help users distinguish the interactive parts.
One of the most practical ways of implementing 3D into a digital product is in e-commerce. With the market gradually shifting into the online world, brands find clever ways to tease us with their products. With the power of easy-to-use photo scanning technologies like Polycam, everyone can create quality scans of their products.
Apple and IKEA were among the first who showcased some of their products in AR, and more companies joined in 2021, like DJI and Fjallraven. With the e-commerce industry rising at a fast pace,  3D will show up in more spaces than ever.
When creating concepts, designers are able to think outside of the traditional X and Y-axis. We are not locked in the 2D cage anymore. Now, we have more ways to present UI than ever. Let's make something good out of it!
5. Bolder and more characteristic fonts
Font trends are not that interesting to talk about since most styles match specific industries' looks. Fashion and note-taking apps often have serif fonts, tech products have sans serif, you get the point. Two trends that will influence 2022 are brands starting to own and accept the aesthetic of much bolder fonts and inktrap fonts in their UI. 
For example, Discord and Nike had a branding refresh in 2021 and it seems they have one thing in common: They have chunky fonts on their pages. This look nicely bounces off the negative space and creates a stronger emphasis on titles.
For those who might not be familiar with the term, an ink trap is a feature of certain typefaces designed for small size printing. The corners or details are removed from the letterforms. When the type is printed, ink naturally spreads into the removed area. Without ink traps, the excess ink would soak outwards and ruin the crisp edge.
While ink traps were designed for printing on newsprint for small point sizes, we have been seeing the exact opposite lately. A bold oversized version of these fonts started appearing on websites, adding more character and charm to the typography.
6. Low code and No-code platforms
Low code and No code software have also been thriving lately. These platforms require either a low amount of programming skills (Low code) or none whatsoever (No Code). They do require a bit of industry knowledge, but they're definitely making it possible for you to build your own website.
There are several online visual editors out there that allow users to build and launch their own websites.
One of our great designers also used Webflow to build our new product Archifolio. 
Archifolio is a personal website builder that makes it easy for architects to build their personal brands and boost their careers. Rather than seeing the same template used on several websites, it enables users to build even more unique and creative pages.
UX/UI designers need to work with creativity and innovation. While we can't avoid the desire for one-of-a-kind status, keeping up-to-date on the latest trends and adapting to them accordingly on the platform remains crucial.
7. Dynamic color palettes
Google rolled out Android 12 and with it the new UI: Material You. Aside from a big redesign, the standout feature for most of us was Dynamic color palettes. This means more customization for how your phone looks. 
Setting it up is easy: based on your wallpaper, it suggests you a palette that could match it in color, hue,  tone and create a good-looking and harmonious result.
This update was rolled out in 2021, but as we know Android updates have a slower adoption rate than iOS and manufacturers create their own version of the OS as well. 
An example is Samsung's One UI 4 which on top of a lot of updates, has dynamic color palettes. Having it on Android, however, doesn't mean that iOS users will have a feature like this in the future. Apple is really specific about what new additions they introduce to iOS.
Designers should keep dynamic color palettes in mind when it comes to UI. From 2022 onwards, such palettes have a high chance of being a staple on Android as more brands will have their own iteration of this trend.
8. System-like UI
This may be a long shot, but hear us out. One of Google's engineering leads Jeff Verkoeyen announced that from now on they are phasing out their use of Material Design user interface components for their iOS apps in favor of Apple's own UIKit. He said that UIKit now has most of the components necessary for Google apps. Instead of building custom code, investing in the long tail of UX details allows for apps to feel even better on Apple platforms.

Google and Apple's tech decisions are undeniably a giant influence on other brands. If Google does it, why should smaller brands make custom UIs for their products? UIKit and Material offer more and more freedom in customization and using them cost less development time.  
As a designer, you should expect advancements towards a more streamlined UI which allows more time on improving the UX and having products built faster than ever.
9. Storytelling with scroll-triggered animation
The ability to tell great stories around a digital experience will continue to trend among the best. Typography itself can build a strong visual hierarchy. As an extremely crucial element of UI, it plays a major role in creating an excellent user experience.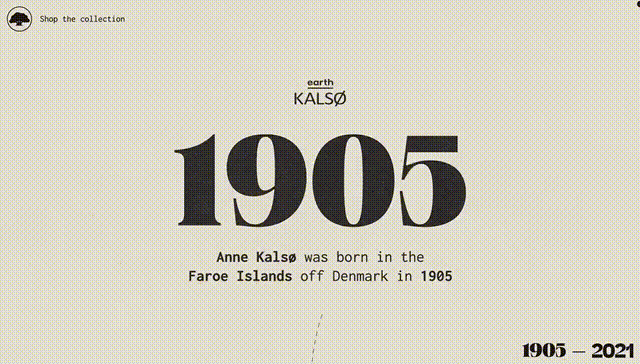 Text styling in itself will not be enough as copywriting has become one of the most important elements for a great user experience and it will hold its ground in the upcoming year. While the style captures the users' attention, the narrative engages them with a brand because it makes them feel like they're part of the story. This, in turn, keeps users from simply scanning through the content. So, don't underestimate the power of UX writing.
10. Designing for foldable
Samsung had a great year in terms of foldable phones. The Z Fold and the Z Flip 3 both sold multiple times more units than their predecessors. As this technology becomes better and cheaper, we'll see other manufacturers trying to succeed in this market, therefore the software has to adapt soon.
With the release of Android 12, Google made a subpage on Material.io detailing all the conditions and constraints to consider when adapting apps for foldable screens. These are just the first steps of considering foldable screens into a Product design workflow. The market is not there yet, but with the rumors and dedication from Google's end to lay the rules of a rising market, we might see this trend rise in 2022.
Designers need to get used to creating more adaptive screens for foldable devices sooner than later which might be a new frontier for innovation and creativity.
---
Which factors influence UI trends in 2022?
Last year apparently slowed people down in coming up with something that focuses purely on the visual aspects. Many related articles mention things that have been trending for three years now, such as storytelling, dark mode, ethical design, unique illustrations, and bold typography, etc.
Since these elements have been on the radar for a few years now, we can't say they are "trends" anymore, but rather, common knowledge. 
There are few new and promising technologies that can greatly influence UX/UI design as a whole and change the way we use our devices. These new UI design trends will be with us for a long time, until they become mainstream, but preparing is never a bad thing.
In 2022, mixed reality and foldable devices offer new possibilities in UI design, so stay informed in these fields!
---
Searching for the right UX agency?
UX studio has successfully worked with over 250 companies worldwide. 
Is there anything we can do for you at this moment? Get in touch with us and let's discuss your current challenges. 
Our experts would be happy to assist with the UX strategy, product and user research, UX/UI design.


Read the full article here