Livestream ecommerce is a form of ecommerce where store sales representatives and influencers sell products and services via online video streaming. The hosts can show products in a lively way and answer the audience's real-time questions.
This form of ecommerce has gained great popularity in China. According to PR Newswire, during the annual Single-Day Global Shopping Festival (November 11th, the biggest shopping day for Chinese online shoppers), the transaction amount via livestream sessions reached $25.6 billion and accounted for 16.3% of the total amount resulted from sales during the year.
Recently, we conducted a usability-testing study in China with 10 participants with different levels of experience with livestream ecommerce. We included a few exploratory tasks and interviewed them before and after the study. Participants showed us how they watched livestream sessions and how livestream sessions helped decision-making while they shopped online.
Two Types of Livestream-Ecommerce Sessions
Livestream ecommerce can be integrated into both traditional ecommerce platforms (like Taobao, the biggest ecommerce app in China) and short-video entertainment apps (like Douyin, the Chinese name of TikTok). However, it shows up in different forms for these two types of apps.
When integrated into traditional ecommerce, a livestreaming indicator appears on the product-listing page for those items with an ongoing livestream. To watch the livestream for one product, users have to go to that product's detail pages and tap the Livestreaming button. They can also read the product-detail page with the livestream session on, in picture-in-picture mode.
In contrast, in short-video entertainment apps, livestream sessions appear alongside other videos. On Douyin, a livestream session appears usually after the user has browsed a handful of recommended videos. The livestream sessions are highly relevant to the user's browsing history — for example, clothes livestreams may be suggested to fashion lovers and restaurant-voucher sessions to foodies. Most of the time, users have no goals when browsing these livestreams; they might place an order when they find something useful at a reasonable price.
Note that some ecommerce platforms like Taobao also have a livestream tab, where users can continuously browse recommended livestream sessions. However, in our study, participants rarely used that feature. When they were on the Taobao app, they mostly joined livestream sessions via a specific product when they had a particular goal.
Two Types of Shopping Behavior and How Livestream Facilitates Them
In our study, we found that not only was the path to livestreams different on ecommerce platforms like Taobao vs. social-media apps like Doouyin, but people were also in different mindsets when interacting with livestreams on these kinds of platforms.
Goal-Oriented Shopping
When users interact with a particular ecommerce platform, they often seek a particular product (e.g., a down jacket for a trip to Canada, a smoke detector for their new apartment) — that is, they have a specific goal in mind. They engage in active information seeking: they may research the best option choose the best-value product that meets their personal needs. In this case, livestream works as a supplemental informational resource to help users make the purchase decision.
In our ecommerce studies, we find that users rely heavily on the product-detail pages to answer questions such as how does the product look or feel, what are its main features, what is the right size. A comprehensive product-detail page with pictures and videos that show the product in context and a useful size guide help answer these questions. For fashion retailers, using models with diverse body shapes helps people visualize what they may look like wearing those clothes.
Livestream sessions take one step further in the direction of addressing customers' questions and concerns and reassuring them.
They demonstrate the products live, in a way that is closer to people's daily lives. Many participants in our ecommerce study thought that the videos and pictures on product pages were so polished that they looked very different from the actual thing; in contrast, products in livestream sessions, which were shown in a real-life context, seemed more tangible.
For instance, a participant who shopped for a waterproof jacket appreciated a livestream session of that product. He said,
"I like that they have 2 models, 1 male and 1 female, hosting this session. So, I can type and ask the male model to try on the jacket I'm interested in. I can also ask questions about the materials and how waterproof it is. Once I asked them to do an experiment for me and splash a cup of water on a jacket, and they did what I asked for."
Livestream sessions are also interactive and thus can answer highly personal or specific questions. Though product pages should anticipate users' frequent questions and customer reviews may address some of the individual concerns that someone may have (that's why we strongly recommend you to have a review section on your product page as it works as a social proof for your products), there will always be highly specific, idiosyncratic questions that an individual may have and that will not be included on the product page.
A participant who was renovating his apartment told us that he watched livestream sessions of home goods to help him make purchase decisions.
"It's my first time doing this [renovation], but the hosts of these livestream sessions [of interior décor] are very knowledgeable, and I learned a lot from them, like what materials I should use based on my constraints. I asked a host which floor drain I should choose, and she answered my question immediately and professionally."
A handful of participants also enter the livestream sessions to get a better price and claim the livestream-specific coupons, especially for high-value items. There is an expectation that coupons will be available in the livestream. For instance, a participant went directly to the coupon center in the livestream for a ¥1,699 (about $240) North Face jacket that interested him.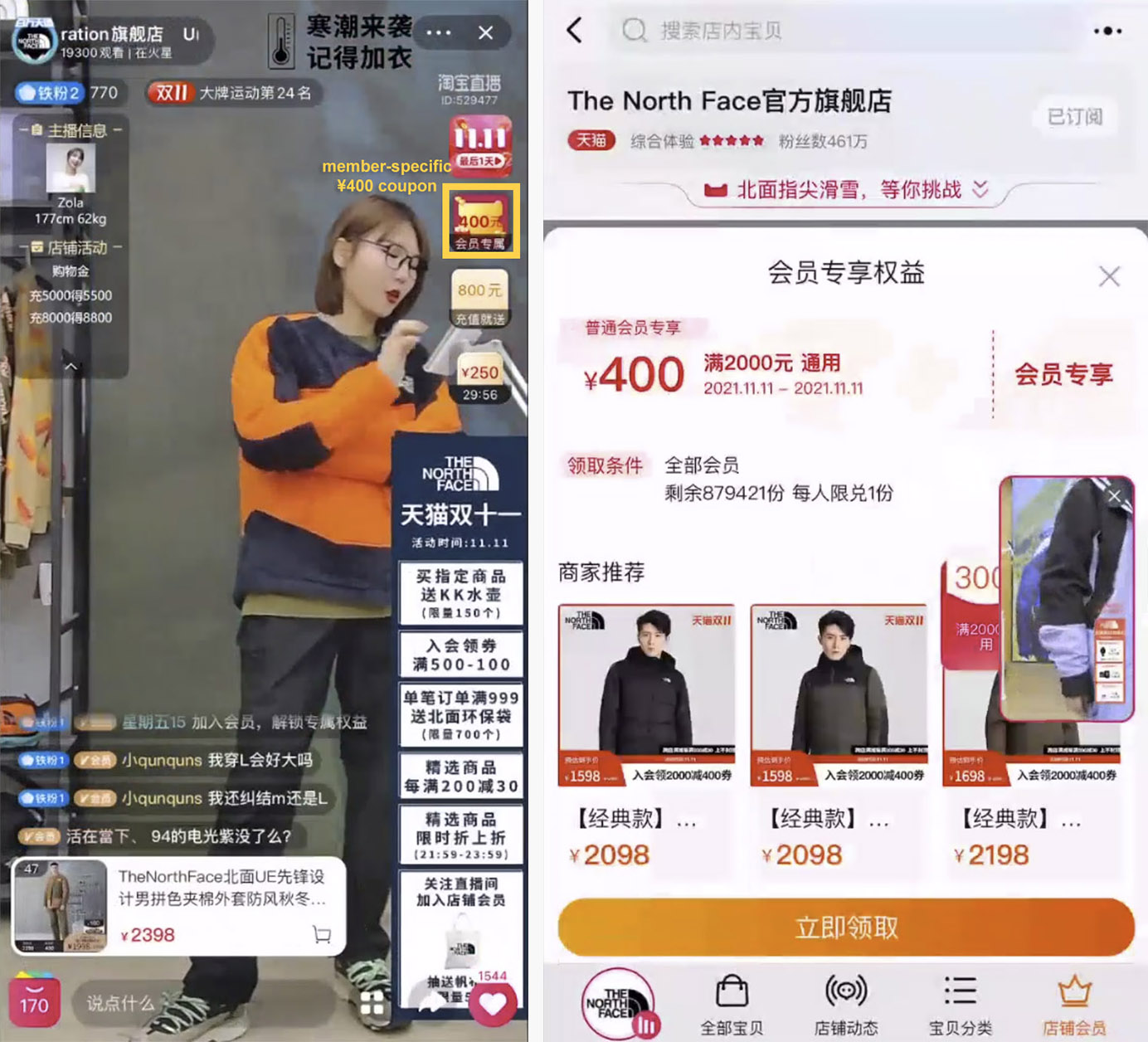 However, people don't necessarily spend the same amount of time and effort on every product. Watching livestream sessions costs extra time; while this time investment may be worth it for certain products such as engagement rings or expensive jackets, it's not going to be warranted for paper towels. Thus, the need for livestream sessions varies across products and tends to be higher for unique, high-value items.
For example, none of our study participants who shopped on Pinduoduo, an ecommerce app featuring daily goods with very low prices (like Dollar Tree), watched the livestream sessions on that platform. Even though Pinduoduo had a similar interface to Taobao, with a Livestreaming button on product-detail pages, participants thought it was "unnecessary" to watch livestream sessions there, as the price of the products was already low enough, and most were ordinary items that didn't require any extra explanations. As a participant pointed out,
"There are livestream sessions everywhere, but I won't watch them here. For me, I check Pinduoduo for the cheapest options; I won't waste my time watching livestream sessions here."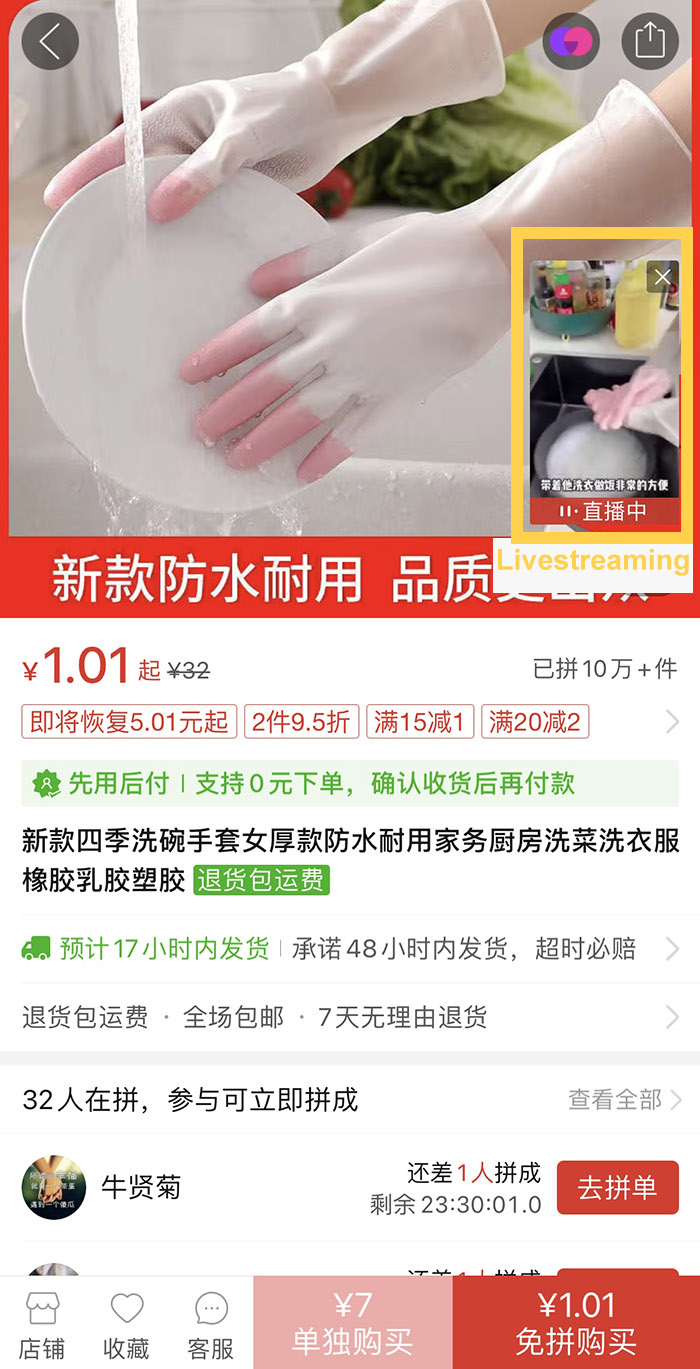 Still, livestream-session recordings can be reused as product videos featured on product pages even if the live demonstration and Q&A are not that valuable for a particular product. This practice is beneficial for both users and retailers. For users, playing a product video requires a lower interaction cost than joining a livestream session and waiting for the host to talk about a specific point. For retailers, the effort of creating a livestream session can be recouped if these sessions are permanently available on the site and act as a supplemental source of information for all users. For instance, many clothes shops on Taobao used clips from livestream sessions as product videos, with small section reminders of Styling, Color, Details, and so on.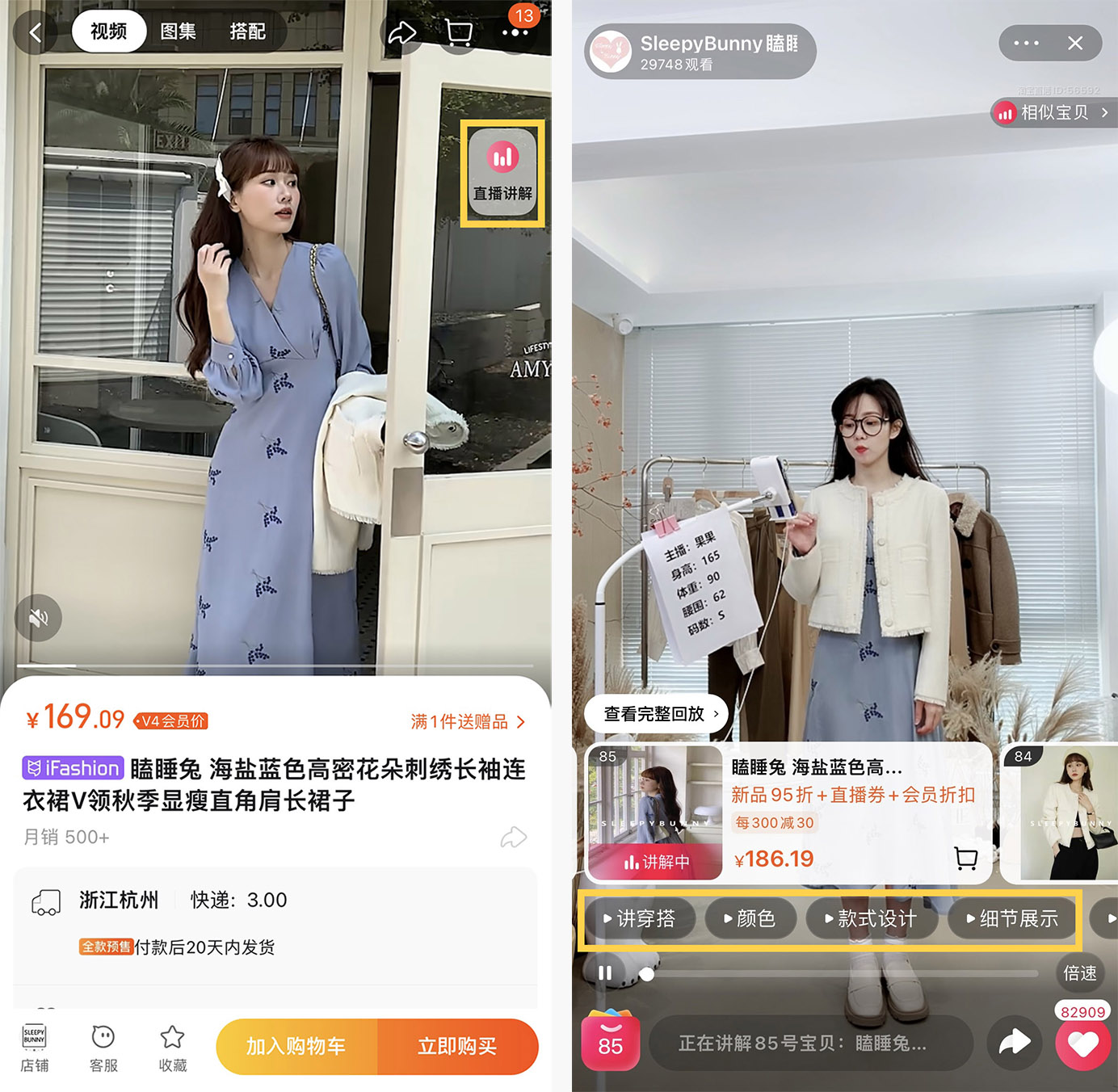 Impulsive Shopping
Even when they're not actively searching for a product, people might end up shopping because of targeted promotions, friends' recommendations, or some other type of passive information acquisition.
Similarly, Chinese participants can also encounter livestream sessions during their passive web-browsing activities and impulsively place orders. Impulsive shopping was more likely to happen when users interacted with short-video entertainment apps (like Douyin) or on content-sharing platforms (like Red), where users share product reviews and lifestyle videos.
The kinds of livestream sessions suggested to users on these types of platforms are highly curated and are based on the users' previous interactions with the same app. In our study, we found that the frequency of promoted livestream sessions varied across participants; on average, a livestream session showed up every 3 videos people browsed. But those who enjoy watching livestreams to kill time are shown a livestream promotion for every 1 or 2 videos; in contrast, users who dislike livestreams might browse videos for several minutes without encountering any livestream session.
Moreover, the topics of the livestreams suggested to a given user closely match that user's previous activity on the platform, as well as their local context. For example, a participant mentioned that she had bought a pair of thick thighs promoted by a Douyin livestream when there was a cold warning going on locally. A participant told us,
"Their recommendations are pretty accurate! I've been browsing camera-related posts recently because I'm thinking of getting one, and it keeps showing me livestream sessions selling cameras."
This type of livestream session is more casual because people are generally in a relaxed mood when they browse these apps to kill time. Some participants who rarely watched Taobao livestreams enjoyed Douyin livestreams instead. A few participants commented that they felt like they were window-shopping in a mall; if they didn't want to watch the session anymore, they could simply swipe it off and jump to a different one. One middle-aged female participant said,
"When I've got nothing to do, I'll just browse livestream sessions. [Entering the livestream session of a fashion brand she had followed for a long time] After I watch for a few seconds, I want to buy it."
Watching livestream sessions has become a lifestyle for some people. Regular users of large, video-dominated social-media platforms develop a habit of watching livestreams for entertainment. This is reinforced by appropriately using contextual data such as the users' previous interactions or location.
Due to the nature of social media, livestreams on Douyin and Red rely on the relationship between the viewers and the hosts. Many participants mentioned they had bought products from the accounts they followed or brands they already knew because they trusted these celebrities and brands. Some of them even become virtual "acquaintances" with the host and the host would greet them when they entered the session. They may not necessarily place an order when they first encounter a livestream session, but if the host's character attracts them or they want to learn more about that brand, they may follow their accounts as the first step. In the long term, as they get more exposed to that brand or influencer, they will gain trust in their products and eventually become loyal customers. A participant told us a story about how he decided to buy a deodorant from Liang Xu (a former Chinese professional soccer player)'s livestream session,
"At first, I had no idea of this product [deodorant] at all. After I followed him [Liang Xu] for a long time and watched lots of his livestream sessions, I found he was really using it every time after he finished exercising and before he went to pick up his kids from school. So, I decided to give it a shot."
Compared to intrusive ads or even video reviews by an influencer, having celebrities use your products in real life via livestreaming is more convincing and can gradually increase people's awareness of a brand or product — an example of the halo effect.
Product-Detail Pages Are Still Needed
If livestreams play such an important role in facilitating both goal-oriented and impulsive shopping, do we still need product-detail pages to introduce products? What if we removed all product-detail pages and replace them with livestream sessions?
Interestingly, MOGU, an online Chinese fashion retailer targeting young women, tried exactly that. None of our study participants liked it.
When users typed a keyword on MOGU, the product-listing page looked the same as in other ecommerce platforms. But if they tapped a product thumbnail to learn more, most products would lead users to a livestream or a video clip from a past livestream session. Participants were astonished and wanted to see the traditional product-detail pages immediately. There are two reasons for this:
Users' existing mental models do not match this design. People expect to see a product-detail page after they clicked on a product from the product-listing page.
Videos are an inefficient way of consuming information because they are based on sequential access instead of direct access. In other words, people can't quickly scan the video to find the information that is relevant to them as they can do with a regular web page. A participant called MOGU's approach "time-consuming," because normally she would scan a table to quickly decide which size she should wear, but, with the livestream, she had to wait for the host to cover that part.
Even on short-video entertainment apps like Douyin, where videos are the dominant content format, users still checked product-detail pages and customer reviews when they found something interesting in the livestreams. Many study participants put the livestream in picture-in-picture mode and visited the detail page of the associated product to check reviews, which were generally considered more "objective and authentic."
Again, livestream is a helpful add-on that provides a different way of conveying product information to users, but it shouldn't replace the traditional product-detail pages, where users can quickly scan for basic information.
Takeaways
Livestream ecommerce supports both shoppers with a specific goal in mind and those browsing social media casually. It appeals to goal-oriented shoppers by demonstrating the product live and answering personal questions, while also providing discounts. On the other hand, for casual browsers, it offers a targeted, personalized way of killing time and increases brand and product awareness by fostering long-term relationships with companies and influencers.
According to WSJ, the revenue from livestream shopping in the US was $6 billion in 2020 and is predicted to grow to $57 billion in 2025; many tech companies are investing in this area. If you are considering adopting the livestream-ecommerce strategy, consider the following aspects to increase return on investment:
Decide into which platform to integrate your livestream sessions. Creating and maintaining your own livestream-ecommerce systems can be expensive; Leveraging existing social media is safer, especially if you already have a presence on apps like TikTok and Instagram, that feature video content.
Figure out the added value that your livestream sessions can bring to your customers. Watching livestreams requires extra effort and users won't bother doing it if they don't get extra value from your sessions. A flash sale, exclusive products, or a consulting-style Q&A and product demonstration may all work; the key is to understand the core needs of your primary users.
Consider a way to reuse the livestream videos. Editing and using them on product-detail pages can both advertise the existence of your livestream events and make the best use of their content.
Alternatively, if you don't plan to explore this area for now, determine whether you can address users' needs for personalized Q&A in some other ways. For example:
Use a variety of pictures and videos on product-detail pages to showcase how your items look in the real world.
Provide comprehensive information about the product and allow users to ask questions on the product-detail page. Provide timely answers to those questions.
Provide a live support channel (e.g., chat) for people with highly specific questions regarding the product.
Establish a social-media presence on those channels that are most popular with your target audiences. Post special discounts, new arrivals, or exclusive events to foster a loyal community.
Leverage celebrities to increase awareness of your product or brand, especially when entering a new market.
Read the full article here