Healthcare has been offered predominantly via traditional, face-to-face interactions between patients and providers. With the advent of the internet, basic communication and scheduling became available via provider websites, with some providers adopting relatively sophisticated web-based portals to facilitate additional interactions with patients. However, healthcare was still a service firmly grounded in traditional, in-person interactions.
Upon the arrival of the COVID-19 pandemic, many healthcare providers shifted their patient-care strategy in the direction of online delivery. Services ranging from messaging with medical personnel to telehealth (virtual) visits became widely available. These enabled providers to reduce barriers to care at a time when in-person appointments were dangerous and the healthcare system was overwhelmed. According to the CDC's Morbidity and Mortality Weekly Report from October 2020, within the early months of the pandemic, telemedicine saw growth of up to 154%.
To understand the impact of such a notable move on typical patient journeys, we conducted a longitudinal diary study examining digital healthcare interactions.
User Research
9 participants from a wide range of ages and demographic backgrounds took part in our study. Our participants ranged from generally healthy individuals seeking routine preventative care to chronically ill individuals with fairly frequent healthcare-related interactions. Selected participants indicated that they had upcoming appointments scheduled or planned to seek care during the study period.
Participants logged each interaction they had with their healthcare providers over the course of one month. Relevant interactions included appointment scheduling, receiving appointment reminders via email or SMS, picking up prescriptions, and meeting with their care provider — both in person and virtually. For each interaction, participants completed a short questionnaire about their experience.
Results
Throughout the course of the study, participants logged a total of 93 healthcare interactions.
Various Devices and Channels
Every participant in our study took part in both in-person and online interactions with healthcare providers throughout the course of the study. Some customer journeys took place completely online, while others did not include any digital interaction — involving only phone calls and in-person appointments.
However, internet-connected devices play an important role in the typical care journey, with the majority of journeys (35 out of 53) including at least one digital touchpoint. We found that healthcare consumers frequently moved between devices and channels throughout the course of a single journey experience.
In some cases, healthcare providers decided where interactions took place. This was most often the case when providers requested patient information before appointments or communicated with patients after appointments (e.g., to deliver test results and after-visit notes). However, in many cases, consumers were free to select the channel and device that they wanted to use for a specific interaction with a healthcare provider. In such situations, users selected the channel that provided them with the greatest task efficiency or ease of use.
Some users even switched channels in the middle of a task to gain these benefits. Reasons for doing so included "to get better image quality on my tablet" or "because my passwords are saved on my laptop." 
Most Interactions Are About Appointments
Digital interactions in the reported healthcare customer journeys took place both before and after appointments. They included scheduling, communicating with providers, and requesting prescriptions.
Appointment scheduling was the interaction performed online most frequently, followed closely communicating with a healthcare professional (either by chat or email) and by requesting or refilling prescriptions. Both appointment scheduling and prescription-related interactions are straightforward procedural requests that lend themselves well to online asynchronous communication. As one user said, "being able to schedule appointments online is really, really convenient." Users can make the requests and wait for confirmation or denial at the convenience of the provider. Later in this article, we discuss that many users prefer online communication over telephone calls to avoid phone tag.
Smartphones Preferred for Healthcare Interactions
Smartphones were the device used for the majority of the reported healthcare interactions (78 out of 93 interactions). Smartphone touchpoints included patient portals (apps or websites), email, text messages, or traditional phone calls.
Participants were asked why they chose the devices they did for each interaction. We learned that they chose smartphones for convenience Multiple users noted that their mobile device is often the closest and most accessible, and, therefore, the quickest option, especially when they are outside the home. Convenience made smartphones the first stop for most journeys. Users generally preferred to avoid the hassle of getting on a computer for tasks.
Most frequently, smartphones were used for scheduling and communication interactions. These tasks require relatively few steps and minimal data entry.
Participants noted that performing simpler tasks on their smartphones helped them to complete interactions quickly.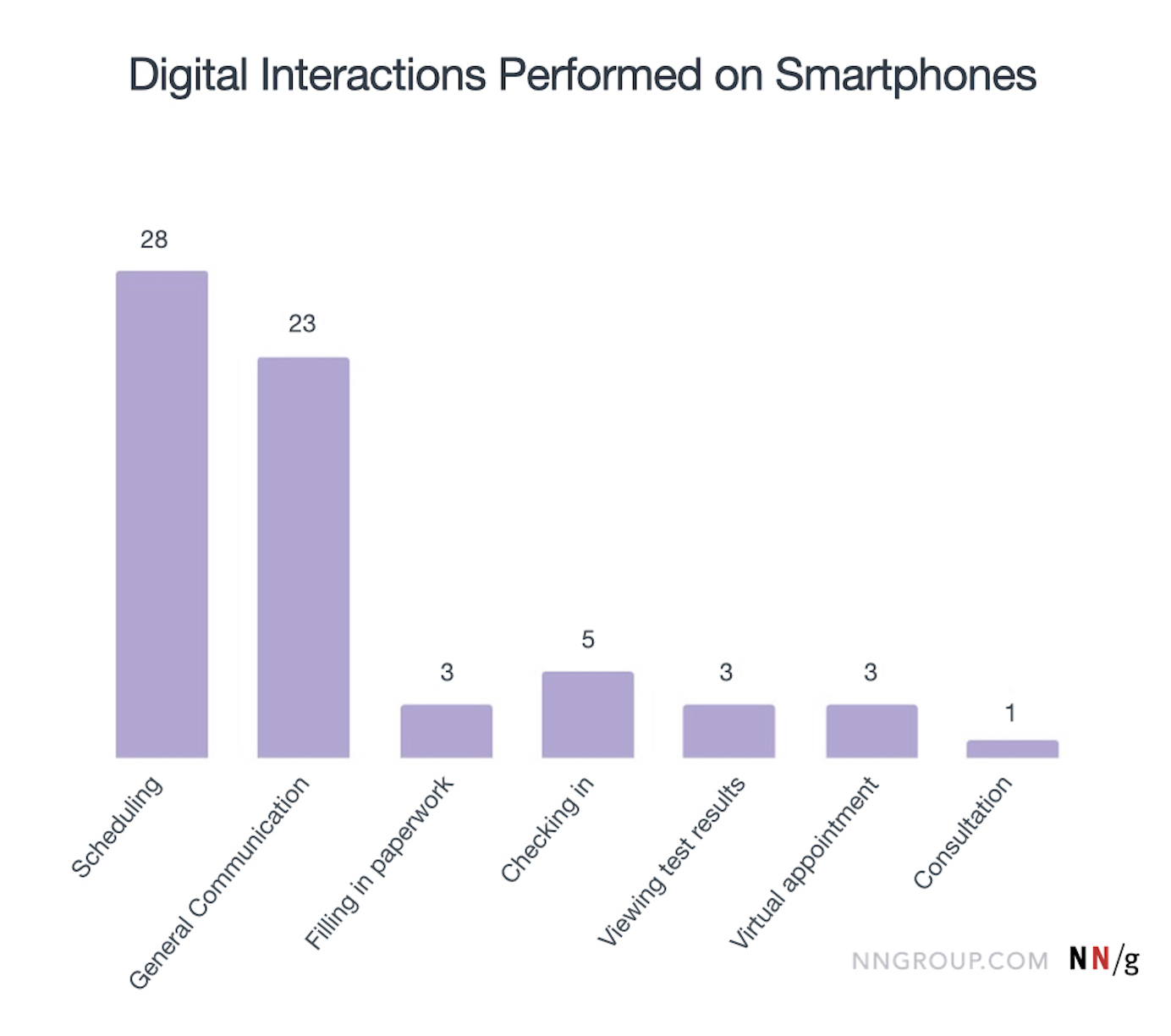 The second most used devices were computers (desktops or laptops), which consumers often chose for complex or time-consuming interactions. 14 of the 93 reported interactions took place on a computer.
Computers were often the go-to device used to access patient portals and provider websites. Users saw them as more dependable and expected the larger screen to make tasks easier to complete or information easier to process.
Several participants noted that some provider websites and portals did not work well on their smartphones or failed to offer the same functionality as the corresponding desktop site. This was the most common reason for which participants chose computers over smartphones for their healthcare interactions. One respondent said, "I generally prefer using my laptop. I find it easier to use, and I run into fewer compatibility issues on webpages". Another user indicated that he chose his laptop over his phone to use the patient portal because "password saving is a lot better on my laptop than my phone" and he was worried that he wouldn't be able to remember his password when trying to log in on his smartphone.
Those who started interactions on their smartphones sometimes moved to computers for more complicated tasks such as filling out intake forms. The lack of proper mobile support for these tasks was what led these consumers to choose the computer's functionality over the smartphone's convenience.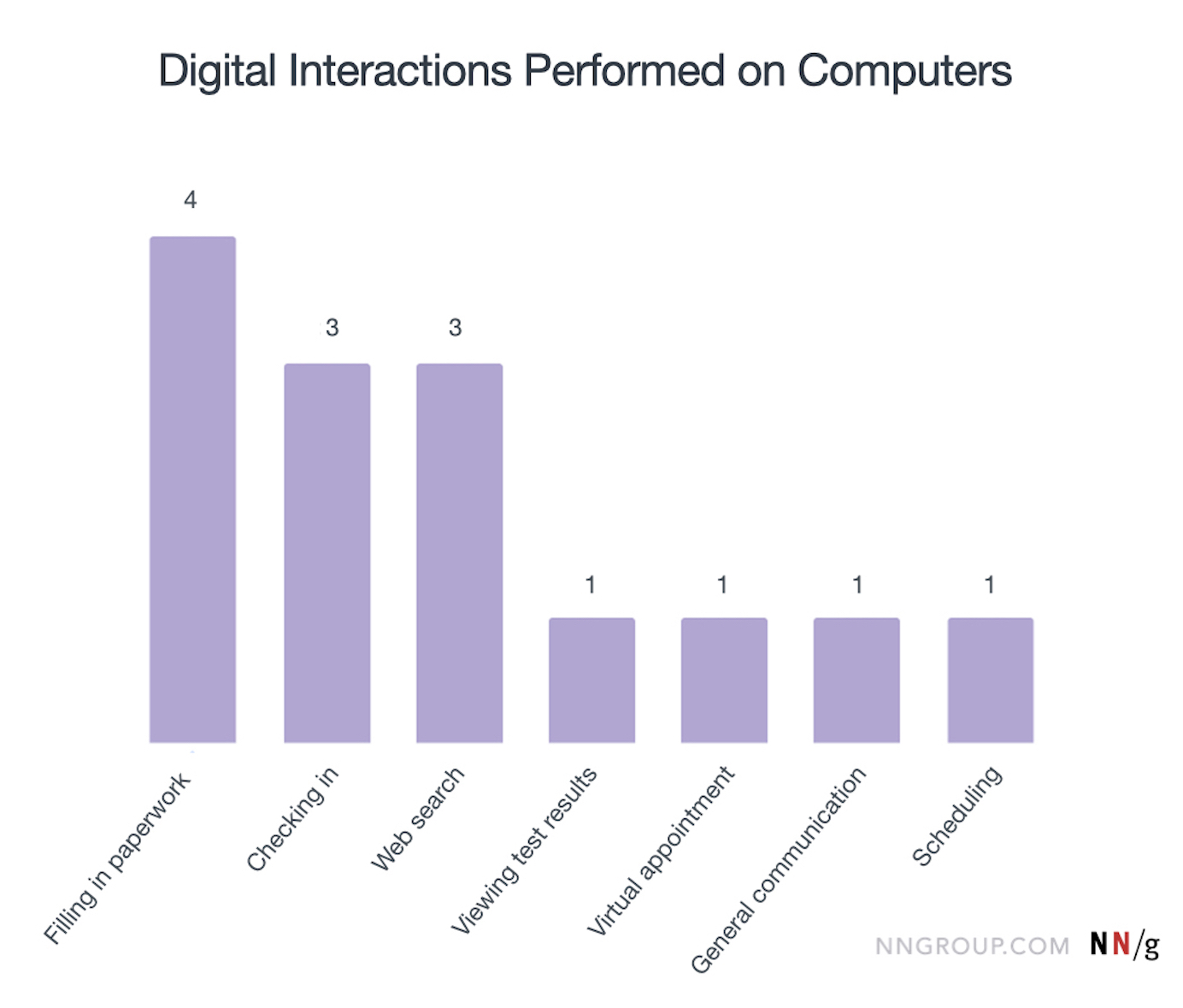 Patient Portals and Phone Calls: The Most Used Channels for Healthcare Interactions
Overall, participants used digital channels much more frequently than traditional channels (such as phone call or in person) to interact with their healthcare providers (21 traditional vs. 72 digital interactions).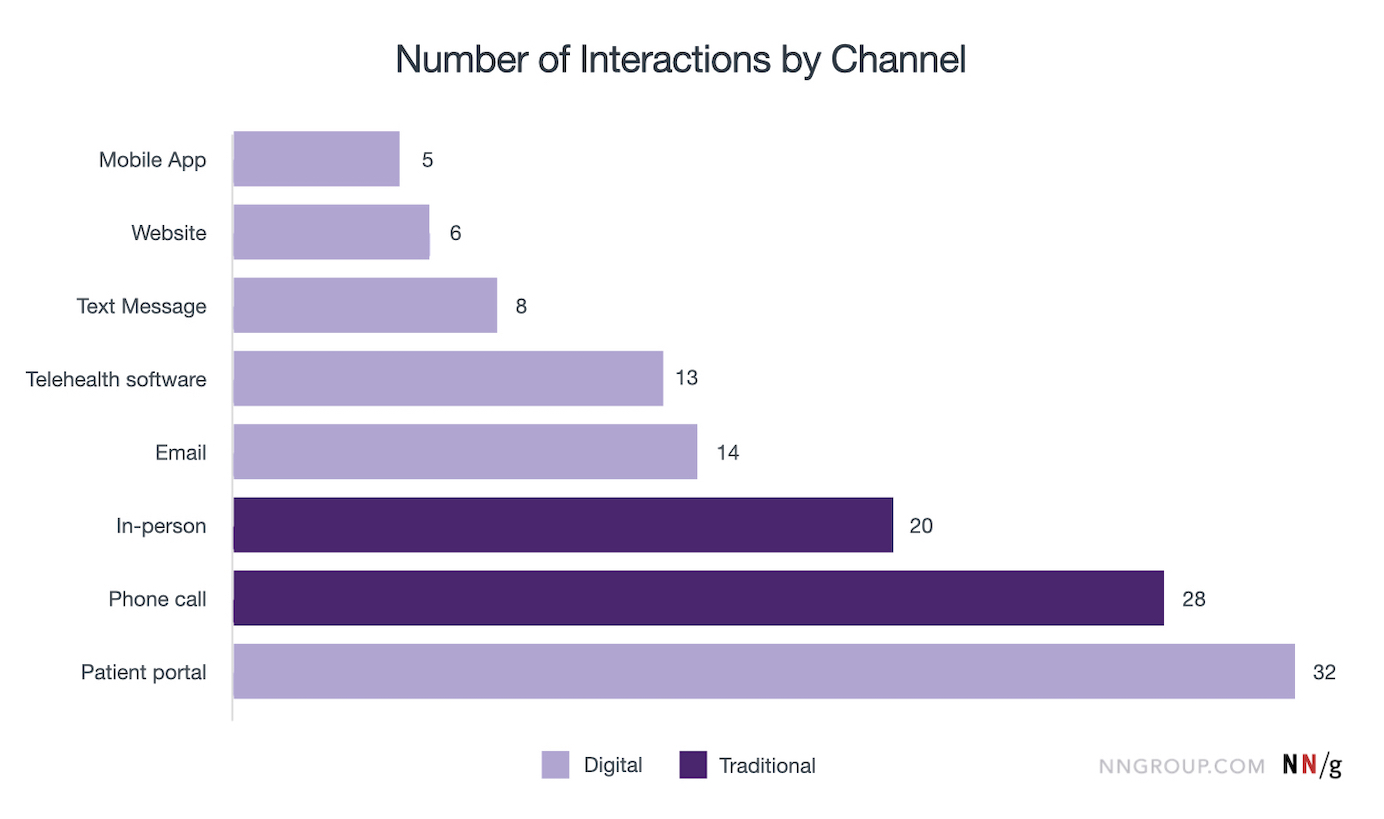 Patient portals were the channel associated with the most healthcare interactions in our study. Patient portals are applications that allow users to manage their accounts and interact with a particular provider. Such portals stood clear as the most used virtual-interaction channel, as they were often the go-to method of communication for users hoping to avoid repeated phone calls. Our research found that 32 out of 93 interactions happened on a portal.
Because patient-portal interactions are asynchronous, it is easier for both parties to interact at their own convenience. Recipients are notified about communications via patient portals, and messages can be accessed at any time through the portal, with no expiration date.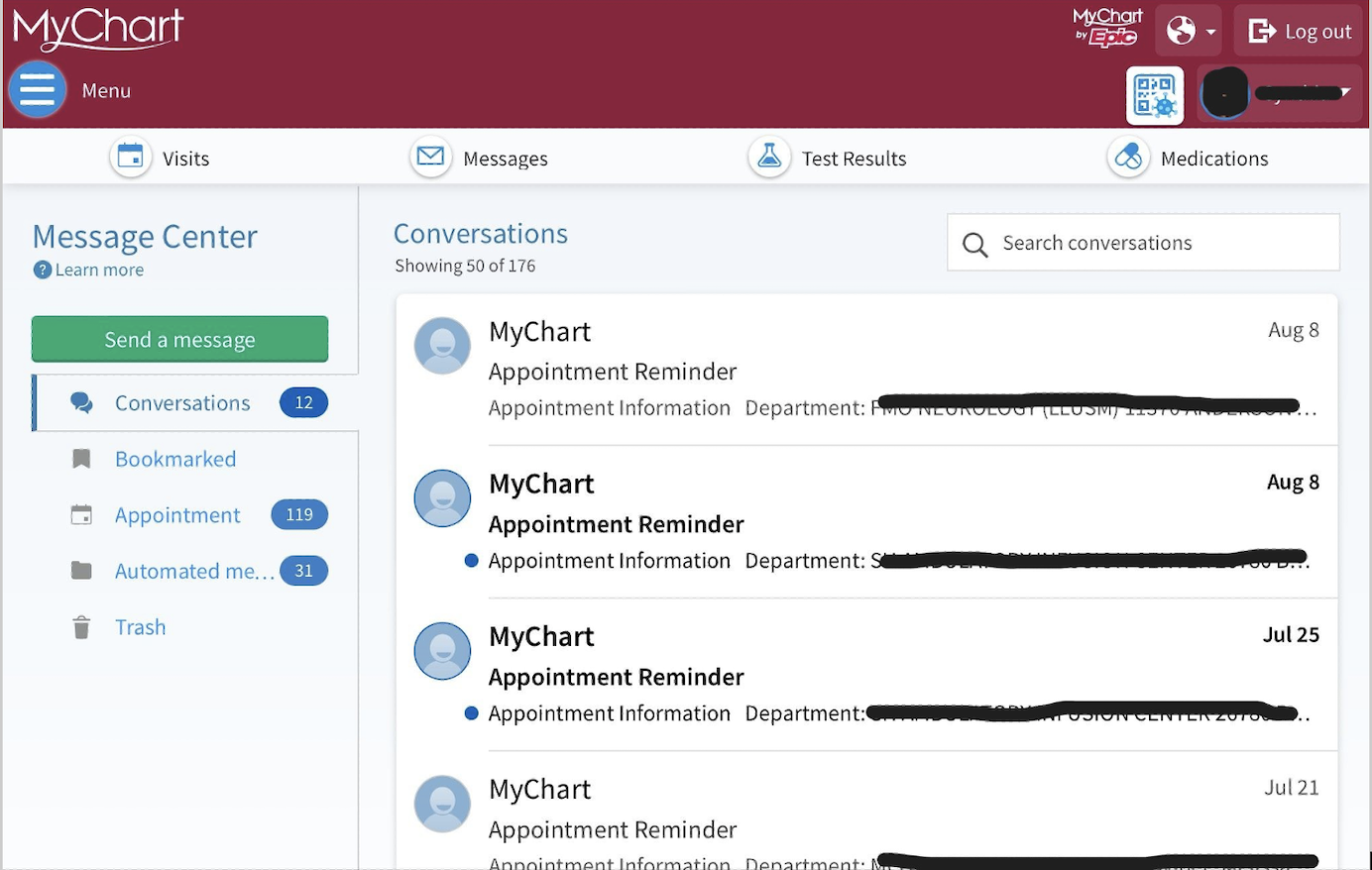 Patient portals included many functionalities aside from basic chat or messaging. They served as a "virtual meeting place" between patient and provider for a variety of interactions. Users took advantage of portals to schedule appointments, while providers directed patients to portals to fill out paperwork, see post-appointment notes, or view test results. Users appreciated having all relevant functionality and information in one place, as shared by one participant in her exit interview: "To have all your stuff in one place, it is a huge help."
One participant was able to rely on a patient portal for every interaction throughout her care journey. She went to the portal to schedule an appointment and communicate with her occupational therapist before and after her appointment. She even met with her therapist via video-conferencing software within the portal.
Such telehealth appointments were the only portal-based interactions study participants complained about. When discussing virtual visits with their physicians, participants mentioned feeling rushed due to set time frames. Some mentioned the inability to engage in nonverbal communication and felt relatively disconnected from their providers even after multiple virtual meetings. In the words of one participant who frequently used telehealth, "I feel like something is lost…I think there is like some kind of deviation from like real face-to-face communication there." The patient portal's wide capabilities were unable to compensate for the lack of interpersonal elements in telehealth appointments.
After patient portals, the most frequent channel was a nondigital one — phone calls. People used phone calls primarily for in-person appointment scheduling — when that functionality was not available in the portal. That being said, most respondents indicated that they prefer to avoid phone calls to communicate with their healthcare team because these often go unanswered and result in "phone tag," where calls go back and forth but continue to go unanswered by both parties. 4 participants mentioned seeking other methods of communication. One frustrated patient said, "I wish for a portal," after calling her clinic three times while attempting to have her question answered by phone. Each time she was directed to voicemail and subsequently missed return phone calls.
Physical and Digital Interactions Are Interplayed
Moving between in-person and online channels was common in the customer journeys we studied. Even in-person visits often required additional steps to be carried out online either before or after the appointments. Patients were asked to fill out paperwork online before their visits. Some even filled out paperwork on iPads provided by the office or on their personal devices, prior to meeting with their doctor. After the appointments, participants were directed to patient portals to access lab results and post-visit summaries or care plans.
One common point of friction in any customer journey occurs when users transition from in-person to digital touchpoints or vice versa. This friction usually happens when the digital and in-person interactions are out of sync and the transitions are not seamless.
We observed such friction between digital and in-person touchpoints in the healthcare journeys we studied. In one case, a user was asked to complete a lengthy virtual check-in process online before her appointment and then fill in the same information again, on paper, upon arrival at the doctor's office. Although she explained that she had already completed the paperwork online, the staff member asked that she still complete the intake forms in person. The user stated, "Why am I literally repeating the steps that I already took time to complete? I was told [by the staff member] that this [completing forms again in person] is the process, and they [the office staff] also feel it is a complete waste of my time to do it unless it is for a virtual visit." In this case, the online check-in process was unnecessary, wasted the patient's time, and caused frustration.
Digital devices and online interactions should be used to introduce flexibility and convenience, to improve the customer experience. However, they must be thoughtfully integrated into the journey.
In some journeys, this was the case. For example, one study participant needed to take her daughter to the emergency room. She called the hospital and was advised to schedule a walk-in time slot through the provider's mobile app. After scheduling the appointment, she was prompted to fill out paperwork, add insurance information, and complete the entire check-in process before arriving. Later, she received a notification that she could bring her daughter in to be seen. The participant found the mobile scheduling and check-in experience incredibly useful; these interactions made a typically stressful experience much more comfortable and low stress, as she and her daughter were able to wait in the comfort of their own home.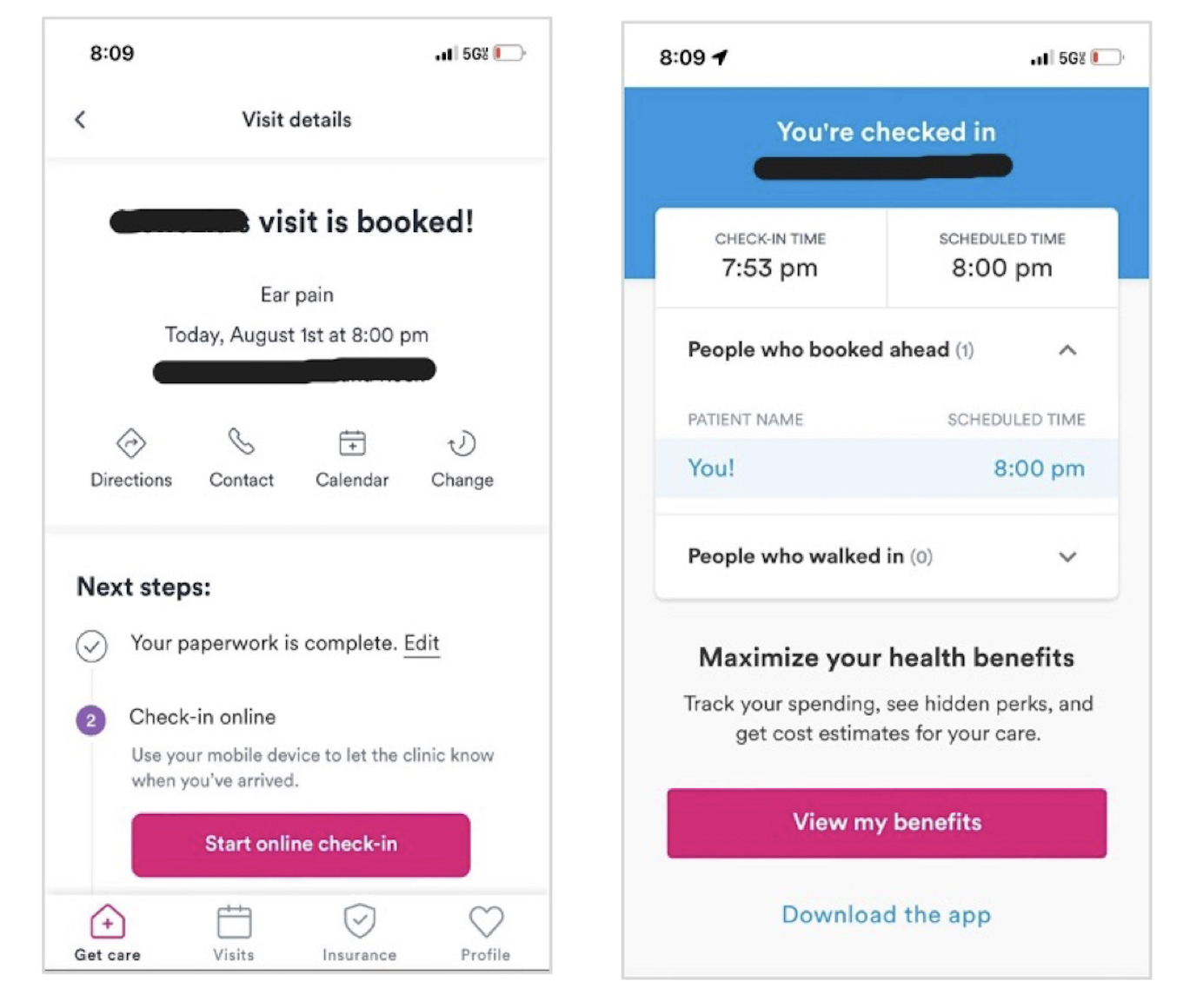 Pain Points
UX professionals aspire to create easy and seamless end-to-end customer-journey experiences. While a few study participants had seamless journeys, many did face pain points while interacting with healthcare providers to receive care.Nearly half of the user journeys we observed included at least one pain point, with some experiencing multiple in the same journey. Pain points happened more frequently in digital interactions than in in-person ones. Some of the pain points encountered by users included:
Findability of information or features. When using portals, several participants had difficulty finding information or features that existed. For example, a participant was unable to locate where lab results were posted within a patient portal.
Lack of expected features. Some users expected features in portals that didn't exist. For example, one participant logged into her patient portal to message her doctor but found that no provider-chat feature existed.
Errors and design issues. For example, a patient who attempted to schedule an appointment online could not do so because the calendar widget was not working properly.
Difficulty with understanding medical information. One user who had recently had bloodwork done at her clinic received the lab results through the patient portal, but there was no explanation of the results provided. She said, "I wish there were some sort of helpful thing in here directing me as to how to interpret my lab results."
Most pain points occurred early in the journey, during scheduling or pre-appointment check-ins, where users were required to complete online paperwork. This may be because patients are less familiar with provider websites or portals at the beginning of their journey or because there are fewer digital activities to carry out after their appointments.
It is important that pre-appointment interactions through online channels are free of issues and roadblocks. Helping users self-serve through digital channels is a benefit to both patients and providers, as it saves time for both groups since it allows staff to focus on the in-person patient experience.
Patients' Perceptions of Digital Healthcare Interactions
Study participants were asked to provide their thoughts and feedback about each healthcare interaction (both in person and online) that they had during the study. They also reflected on these experiences at the end of the study in a final interview.
Convenience and Efficiency: Two Key Benefits
Users appreciated the ability to interact with care providers via digital channels, citing that these online options provided increased efficiency, flexibility, and autonomy in how they approach and receive care.
Convenient communication via patient portals was a notable benefit. 5 of our 9 participants indicated that quick and direct communication was a priority for them when seeking care. This aspect was mentioned repeatedly both within interaction reports and during interviews. It was clearly important to participants that their providers were accessible for communication when needed. As noted previously, participants preferred asynchronous chat in a patient portal over contacting providers by phone, which often resulted in phone tag.
Another user was happy to report that the check-in step for her in-person appointment was "expedited" because she was able to fill out the paperwork on her own time in advance.
6 participants directly stated that convenient scheduling was a critical benefit brought on by the presence of digital channels in the healthcare experience. During exit interviews, when participants were asked if online resources helped or hindered their healthcare journeys, they frequently brought up scheduling. One user noted, "being able to schedule appointments online is just really convenient." Digital channels made a task that is usually seen as a hassle accessible and efficient. Some users complained when online scheduling (or communication with the providers) was not available. A participant complained about one of her providers, "It's very old-school. There is no portal, no chat, and no online scheduling. You can only schedule routine visits for the following week, which must be done over the phone."
Less Satisfaction with Virtual Appointments
Although many participants appreciated the efficiency and convenience of digital interactions for some communications and interactions, not every interaction was suitable for online delivery. In particular, patients who had virtual appointments with physicians mentioned the lack of nonverbal communication and difficulty forming interpersonal connections as two major drawbacks of telehealth visits. Several participants indicated that the interpersonal component was so vital to their comfort that they avoid online appointments with physicians. They cited reasons such as "I prefer to talk to a person" or "I don't believe you can form real relationships with a provider via telehealth."
Another participant preferred the pre-digital healthcare system, stating that "I think the level of being personal is completely gone and out the window. I don't think any of that is there like it used to be; everything is computer-automated […] I mean, nothing is really personal anymore."
Digital Interactions Added Complexity and Pain Points
Study participants who had healthcare experiences that took place only through traditional channels had less access to their healthcare providers overall but faced fewer pain points than those using digital modalities. Only a third of journeys using traditional touchpoints hit roadblocks, as opposed to two thirds of journeys using digital touchpoints.
Study participants also complained that the addition of digital interactions introduced too many steps to their care experience, making it feel convoluted and causing unnecessary headaches.
A few study participants indicated preferring the traditional healthcare experience of days past, expressing frustration when faced with digital touchpoints in general. They mentioned connection errors and confusion when attempting to get in touch with providers.
Conclusion
Internet-connected devices and digital healthcare tools introduce a lot of opportunities to streamline and improve the typical healthcare-journey experience. However, our research shows that the use of digital interactions and digital tools is largely haphazard, creating fragmented healthcare experiences for consumers.
Simply providing digital communication options or providing access to an online portal is not enough. These digital channels and touchpoints must be thoughtfully integrated into the broader experience, which often still includes in-person interactions. To do this, healthcare systems must adopt a journey-centric approach to patient care, by identifying common customer goals and working to understand the comprehensive experience users have as they move across touchpoints to achieve these goals. Each health system and the care experience it provides will differ, so it's necessary to conduct research in order to understand users' needs and the pain points they encounter along the way. However, based on our study, we can suggest several general guidelines that would be applicable to most healthcare journeys.
Email, text, or online messaging afford patients the convenience and efficiency of asynchronous communication with their providers.
Select digital tools that work well on mobile devices; provide content and feature parity across devices (including mobile).
Focus on creating seamless transitions between digital and in-person interactions throughout the journey.

On touchpoints that trigger such a transition, set expectations and prepare patients with all necessary context needed in the next step.
On touchpoints that receive such transitions, ensure that the experience aligns with expectations set and information communicated in the triggering interaction.
For more about customer-journey management, we offer a full-day training course, Customer Journey Management.
Read the full article here