Disclosure: This post may contain affiliate links. We get a commission if you decide to make a purchase through our links, at no cost to you. You can read more about our affiliate disclosure in our privacy policy.
---
Office pods are becoming increasingly popular as a way to boost productivity and to block out distractions at offices, public spaces and at home. Some YouTubers even use office pods as a studio for Vlogging.
So, if you're looking to setup a designated workspace either at home or in a commercial premise, we'll discuss about the features, costs and show you some of the best office pods in the market right now.
Scroll down to learn more.
---
Table of contents
Best indoor office pods
VANK Wave Acoustic Pod
The OfficePOD
Nook Huddle
Focus Room by ROOM
Best outdoor office pods
Hello Wood Workstation Cabin
Purple Leaf Backyard Sunroom
Cerca Homes Sela Mini
Autonomous WorkPod
The Balmoral Garden Room
Best phone booth work pods
Loop Solo
Nook Pro Solo
Framery One
Talkbox Slide
FAQs
How much does an office pod cost?
Do you need a building permit for an outdoor or backyard office?
---
Best indoor office pods
1. VANK Wave Acoustic Pod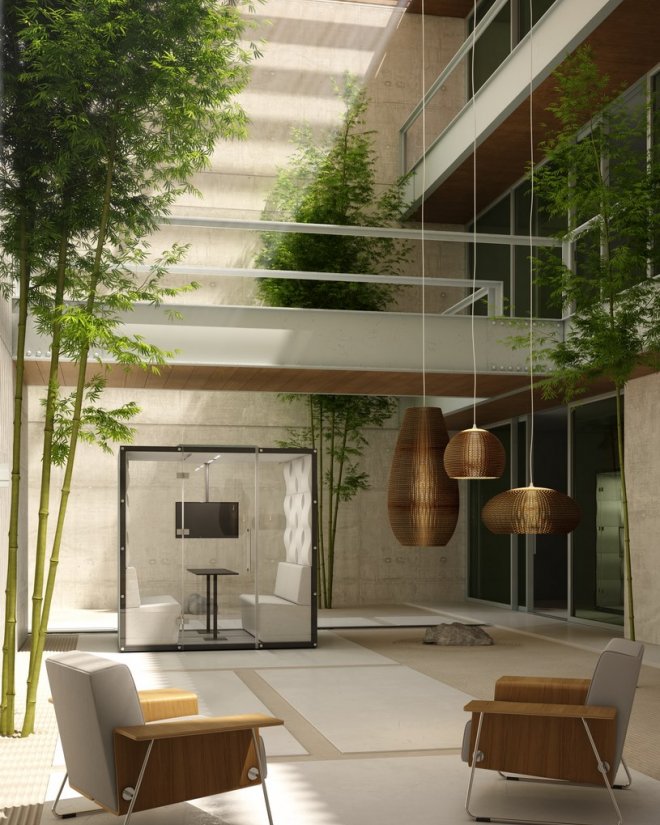 We call this a versatile work pod. The VANK three-dimensional wave shaped panels act as a diffuser to break up sound and noises generated from the outside, making the pod sound-proof.
The VANK features a safety glass door, connecting panels, TV screen mount, energy-efficient LED ceiling lighting, and a control panel that monitors lighting intensity, air quality, and noise levels.
This work pod can be moved freely, disassembled and reassembled if necessary. This is made possible by the castors attached to the base and the heavy-duty design — suited for repeated assembly.
You can even decorate the walls of this pod with mural art or grow potted plants on it.
Other features include:
•  Adjustable LED lighting
•  Wireless internal sound system
•  Power supply, power sockets and USB charges
•  Available 2 pod heights: Standard 238cm or 223cm
•  Quiet and efficient ventilation system
•  Equipped with noise level and air quality sensors.
View the VANK Wave Acoustic Pod
2. The OfficePOD
The OfficePOD is from the UK. This uniquely designed pod gives you a private, relaxing space to work and can be placed in either outdoor or inside of buildings.
The OfficePOD is solid built and can be easily dismantled, relocated or refitted anytime. It have a very  spacious interior and perfect for home or business use.
Assembly will be done by the service provider in as little as a day with minimal disruption.
Other features include:
•  Fully furnished and equipped
•  Unique sound system
•  Can be placed anywhere with no foundations required.
View the OfficePOD
3. Nook Huddle
The Nook Huddle comes fully furnished and provides a quiet meeting room and workspace in a room within a room.
It has acoustic panels, a roof, a power station for quick device charging, user-adjustable lighting for a personalised lighting experience, and upper back whiteboard panels that can be written on from either side for more privacy.
The Nook Huddle also features heavy-duty lockable casters make it easy to move about
Other features include:
•  Soil and stain resistant
•  Built to last and covered by a 1-year warranty
•  Comes with removable benches and a table
•  Easily upgradable, repaired, and recycled.
•  Extra storage space beneath the benches and a small shelf above the desk
•  Heavy-duty lockable casters makes it easy to move the Nook, while keeping it firmly in place as needed.
4. Focus Room by ROOM
Need a personal space in an office? The Focus Room is a pre-fab office booth that provides space for private discussions, ZOOM meetings and shields outside noises including constuction noises.
The Focus Room is sound-proof and sustainably engineered to give you everything you need to stay focused and productive in a private and comfortable space.
This unit is available in two models – Standard and Pro. Both the models are equipped with built-in power units, controllable in-room lighting, skylights and lots more.
Other features include:
•  Sound-proof up to 30dB
•  Integrated three-fan ventilation system
•  Built-in desktop power unit to keep you charged and connected
•  Also included – a spacious desk and accessory rails.

View the ROOM
Best outdoor office pods
1. Hello Wood Workstation Cabin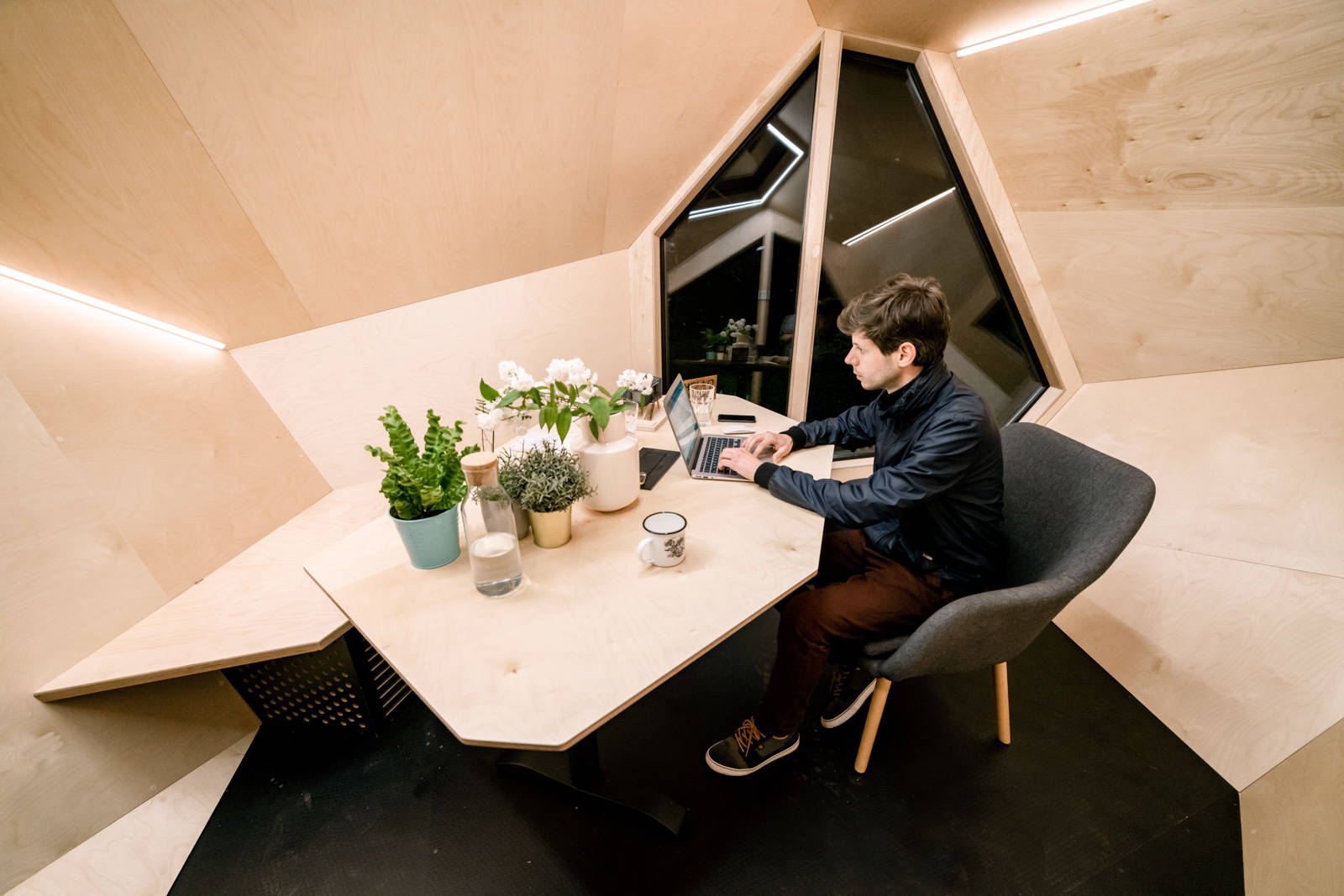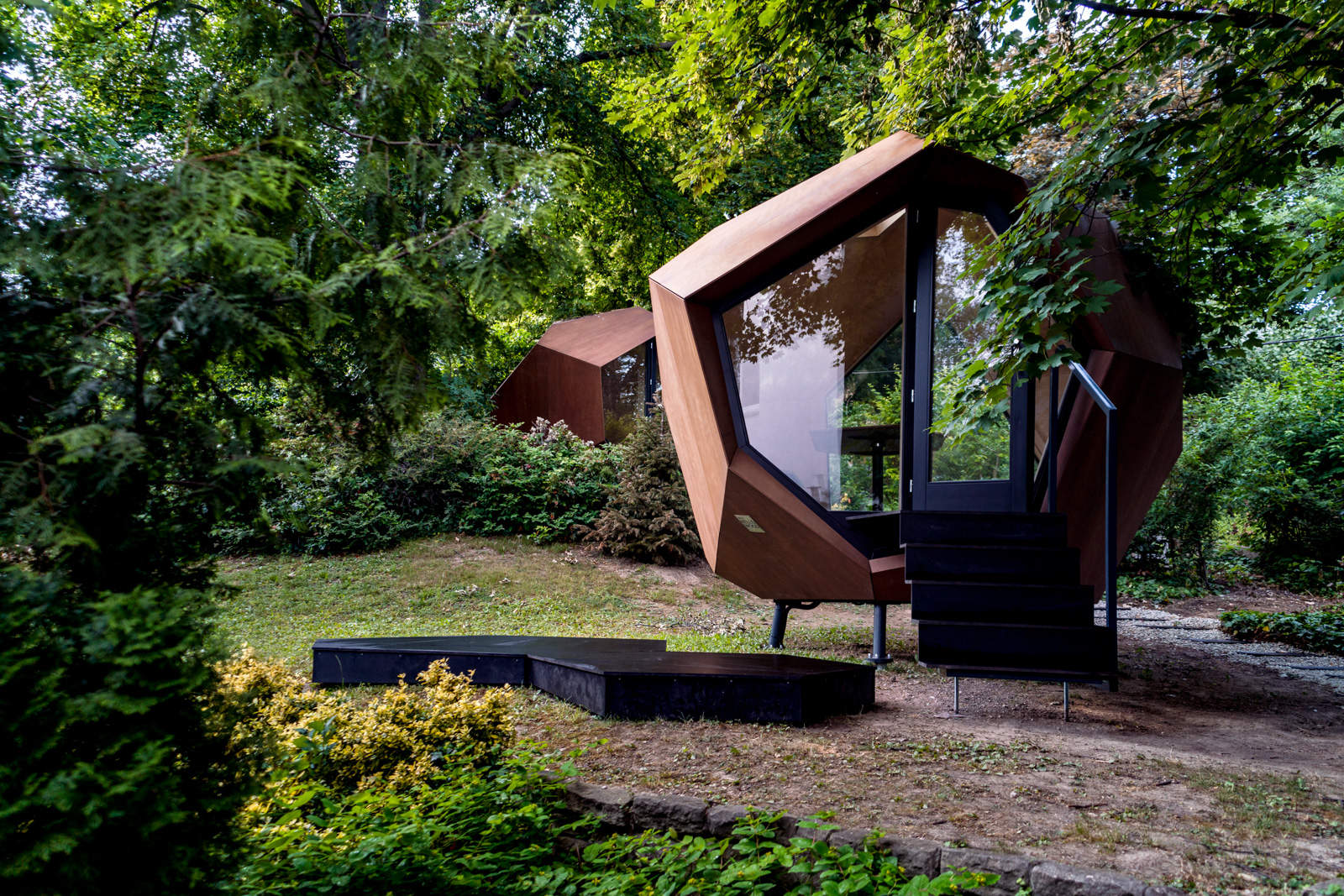 The Workstation Cabin by Hello Wood, a Hungarian architecture studio functions more than just a backyard workpod. This unique geometric shaped pod/cabin can accomodate up to 6 person and can be used as a private meeting room, a cool home office space, a kid's playroom and or place for you to unwind without leaving your backyard.
The wood panelling of the Workstation Cabin can be seen throughout the warm room, and the large windows allow natural light to stream in. It comes fully assembled, with a built-in bench and an electrical outlet.
Other features include:
•  Customizable
•  Interior area: 8m²
•  Internal height: 2.6m
•  Insulated and sound-proof
•  External height (with legs): 3.60m (3.25m +, 0.35 m)
View the Hello Wood Workstation Cabin
2. Purple Leaf Backyard Sunroom
The Purple Leaf is a multi-functional sunroom that could also works as a backyard office or studio. The front & back wall is fitted with double sliding doors for convenient entrance and exit.
The double roof of this sunroom provides good ventilation is made of sturdy galvanized steel material which is weather resistant to strong winds, rain and snow fall.
Other features include:
•  Sturdy and made from good quality materials
•  Weather resistant screen windows
•  Manufacturer provides excellent customer service
•  Aluminium poles has built-in with 6 battery-powered LED lights.
3. Cerca Homes Sela Mini
Don't worry if you don't have a big backyard but still need a separate and personalized office space. The Sela Mini by Cerca Homes in West Hollywood, CA is an 80 sq ft. studio that can fit in small spaces.
From the interior to the exterior, the Sela Mini is made from high-quality and sturdy materials that gives you that luxurious feel for your workspace.
This small outdoor studio is also customizable and available in 4 different sizes.
Other features include:
•  Solid bamboo flooring planks with fine finish
•  Thermal wood exterior overhang
•  Manufacturer provides on-site installation.
View the Cerca Homes Sela Mini
4. Autonomous WorkPod
The Autonomous WorkPod is a ready-to-use home office pod. The pod is sound-insulated, equipped with floor-to-ceiling glass doors giving you spacious room to work.
The WorkPod comes with pre-wired plug & play connectivity, a SmartDesk Connect & ErgoChair Pro+ for ergonomic workstation setup, an anti-fatigue mat, a cabinet and book shelf to keep you organized.
Alttough some self-assembly is required, the WorkPod very easy to setup.
Other features include:
•  Weather resistant and sound-proof
•  Pre-wired for air conditioning and warm lighting
•  Easy-to-adjust base that accommodates uneven ground and evenly distributes weight up to 2.9 tonnes.
View the Autonomous WorkPod
5. The Balmoral Garden Room

The Balmoral Garden Room from the UK is fully customizable and can be installed according to the shape of your outdoor or garden space.
This garden room is eco-friendly, with free flooring, skirting, and a 1.5kW wall mounted heater included during on-site installation. You can even pick the building materials of your choice to match your style and create your dream workspace.
Feel free to talk to the friendly team from Hargreaves Garden Spaces about your needs.
Other features include:
•  Internal plastered finish
•  Eco-friendly 10 cm (4″) thick and fully insulated walls
•  Available in Scandinavian Redwood, British Western Red Cedar, or Premium Canadian Western Red Cedar cladding types.
View the Balmoral Garden Room
Best phone booth work pods
1. Loop Solo
Phone booth style office pods these days are the go-to solution for employees who need some privacy and a quiet zone to stay focused while working in an open area. Employers love it too because of it's space-saving feature, functionality and design.
The Loop Solo provides such solution, flexibility and customization of open spaces. It gives office workers a peaceful workspace and help deter distraction caused by surrounding co-workers.
This sound-proof business phone booth includes a built-in desk, switchable outlets, an LED light, an ergonomic bench seat and positive pressure two-fan ventilation system.
Additionally, this pod's contemporary style will undoubtedly add style to your open space.
Other features include:
•  No assembly required
•  Fully equipped plug & play pod
•  Clear 10mm tempered glass
•  Magnetic door closing that's hidden.
 View the Loop Solo
2. Nook Pro Solo
The Nook Pro Solo is a great phone booth pod for those who want to work in peace and quiet in small spaces. Whether you're working from home or at an office, you can move this pod around from room to room.
The Pro Solo can also provide a quiet environment for students to work on projects at school, as it can help to reduce interruptions. These pods gives them greater concentration while still allowing for collaboration among students.
Additionally, the Pro Solo has sound-reducing features like the acoustic seal and quiet ventilation system that will help minimize distractions from the outside.
Other features include:
•  3-year warranty
•  Heavy-duty lockable casters
•  Two ultra-quiet ventilation fans
•  Comes with a table, a small shelf and individual seat
•  Adjustable user-controlled lighting
•  Power station with standard and USB electrical outlets.
3. Framery One
The Framery One is a smart work pod equipped with the latest technology. You can use the Framery Connect app to manage how your workplace operates, or sync your Framery One with your company calendar to make reservations.
The pod also has a cutting edge sound insulation and ventilation system that is ISO certified.
From it's exterior to interior build, it's built to last. The structure of the pod is fire-proof. Both the seat and table are easily adjustable and comes with a foot rest.
There's also the option to choose Framery One without a seat. And if you need to move the Framery One around, just add wheels to it.
Other features include:
•  Customizable
•  Solid walls and roof
•  Smart touchscreen UI panel to adjust lighting and airflow
•  Power consumption 30W while in use (default), 6W in standby (fans are working on 25 % of the maximum power)
View the Framery One
4. Talkbox Slide
The Talkbox Slide is one of the most popular sliding phone booth pods in the US, designed for long work sessions while providing maximum privacy.
With its full-length sliding door design, the TalkBox Slide is space saving, making it ideal for home and office use.
As with its interior, it's very roomy and comfortable inside with a spacious desk (18″ x 36″) included. The phone booth has great ventilation as well, with side-by-side heavy-duty fans supplying whisper-quiet fresh air throughout extended work hours.
The interior skylights provide good ambient lighting, with an additional 2240 lumens LED light panel added overhead.
Other features include:
•  Full-lenght glass door
•  Quiet & comfortable ventilation fans
•  Comes with USB and Standard Power charging station
•  Large skylights and overhead halo LED lighting
View the TalkBox Slide
FAQs
•  How much does an office pod cost?
Prices for office pods can vary greatly, depending on the size and features of the unit. Some smaller, more basic models available can cost around $4,000 – $8,000. While the more high-end and larger units can cost around $25,000 – $50,000.
It's important to establish a budget and to think about what features of an office pod that you really need. Consider also how much space is available in your home or office to place the unit.
To ensure you enjoy the best of both worlds – the best office pod made affordable for you; all of the office pod brands we recommended here do offer flexible financing options. Be sure to check their pricing and payment plans on their websites.
•  Do you need a building permit for an outdoor or backyard office?
According to the majority of council laws, you don't need a building permit until your home office shed reaches 100 – 120 sqft. in area. However, we do advice that you always double-check with your local council before building your office shed. Otherwise, you will have to pay for extra liabilities and expenses.
Thoughts
Nothing beats working in a quiet, distraction-free atmosphere. If you've opted to set up a separate workspace for yourself or for others, we hope you've found the ideal office pod from our suggested selection.
Let us know which is your favorite in the comments below. Thanks for reading!
---
Disclosure: YDJ

and the YDJ Blog is a participant in the Amazon Services LLC Associates Program, an affiliate advertising program designed to provide a way for websites to earn advertising revenues by advertising and linking to Amazon.com. As an Amazon Associate, we earn from qualifying purchases at no cost to you.
The post 13 Best Office Pods for Home and Commercial Spaces appeared first on YDJ Blog.
Read the full article here